Runnin' the Point: Quinnipiac should be confident heading into MAAC play
The biggest win of Baker Dunleavy's young coaching career came at the perfect time.
Each of Quinnipiac's four wins this season have come in dramatic fashion. There was the season opening two-point win over Dartmouth on Nov. 11, then the 68-66 home win over a tough UMass team on Nov. 29 and finally the Bobcats' only road win of the season, an 89-87 thriller at Columbia where freshman Rich Kelly hit a game-winning layup.
[media-credit name="Photo courtesy of Quinnipiac Athletics" align="alignright" width="300″]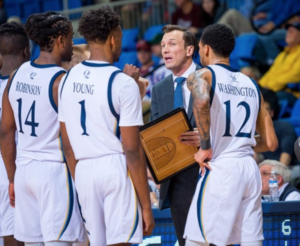 [/media-credit]None of those wins, however, topped what happened in Thursday's Metro Atlantic Athletic Conference (MAAC) opener.
Monmouth, the two-time reigning MAAC regular season champion, came in at just 4-8, but that was a result of its stacked non-conference schedule that featured the likes of No. 9 Virginia (73-53 loss), UConn (84-81 overtime loss) and No. 16 Kentucky (93-76 loss).
"Monmouth is an extremely well-coached team," Dunleavy said. "They're not just a team, they're a program. They've established themselves in (the MAAC) and they have great players and a terrific coach. Beating them, whether you're at home or on the road, is a difficult task and we're proud to do it."
Quinnipiac hadn't played an opponent near those levels, but games against Colorado (70-69 loss), Wake Forest (72-55 loss) and Vermont (80-73 loss) were all solid tests.
"Of course with those out-of-conference games, you want to win them, but they get us prepared for situations like this," senior guard Cam Young, who led the team with 20 points, said. "We had a close one tonight in our first MAAC game, but I think those losses prepared us and had us more focused on the details that we needed to win this game."
[media-credit id=2200 align="alignright" width="192″]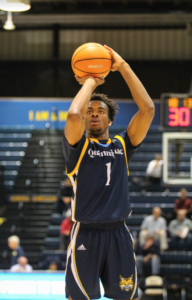 [/media-credit]The Bobcats' win on Thursday was their most consistent all-around effort of the season, outscoring the Hawks by one point in each half, dishing out 20 assists on 25 made baskets and only committing 10 turnovers.
"(It) was a fun way for us to start (MAAC play), as far as the result," Dunleavy said. "It was my first MAAC game, but it was a lot of our roster's first MAAC game really. That was a special way (to start MAAC play) at home with our fans."
In many of its early season games, Quinnipiac would put together one good half and one bad half. In a 78-72 loss to Maine on Nov. 26, the Bobcats were outscored by 23 in the first half, and outscored the Black Bears by 17 in the second. Against Lafayette on Dec. 2, Quinnipiac won the first half 30-29, then lost the second 50-28 for a 21-point loss.
Inconsistency has been a staple for the Bobcats all year long. Perhaps the win over Monmouth showed that Quinnipiac could be a force in the MAAC going forward, or maybe this is just a high point in what will continue to be an up-and-down season.
The truth is that it's probably somewhere in between. Quinnipiac will not win the MAAC, but they will certainly not end up dead last, which is where they were picked to finish in the MAAC Preseason Coaches' Poll.
Aside from the solid all-around performance, where Quinnipiac recovered from an early 10-4 rebounding hole to finish with just a 35-32 deficit, the elephant in the arena was senior center Chaise Daniels. Since Daniels left the team for "personal reasons" on Dec. 9, the Bobcats had been outrebounded 46-28 and 32-26 in their losses to Drexel and Vermont, respectively.
Daniels made his first public appearance with the team since the announcement, and was sitting at the end of the Quinnipiac bench during the game.
Chaise Daniels, who has been away from the team and not played in the last two games, is in attendance and sitting on Quinnipiac's bench tonight pic.twitter.com/jaYhOfSrIR

— Logan Reardon (@LoganReardon20) December 29, 2017
"(Daniels) is practicing with us right now, and he's doing a great job," Dunleavy said after the game. "He has our full support as far as our team is concerned. I would just say 'day-to-day.' He's just got some things that he's working through right now and he will play for us again this season, but I just think it would be unfair for me to tell you if it's next game, two games from now or three games from now. But I would say (he will play) sooner rather than later. He's just working his way back and we're going to be glad to have him back."
Bringing back Daniels, if his mindset is in the right place, could be huge for Quinnipiac. There is no denying the 6-foot-9-inch senior's talent and intensity, and if he is back he could seriously help the undersized Bobcats in MAAC play.
With Daniels out of the lineup, some other talent has emerged off the Bobcat bench with expanded roles. Abdulai Bundu has stepped into the starting lineup and played as well as Dunleavy could have hoped, averaging 11.7 points and 7.0 rebounds per game in the three games.
In the win over Monmouth, the short-handed Quinnipiac bench shined. In the first half, it was junior guard Andrew Robinson scoring 11 points to keep the Bobcats ahead. Freshman guard Jacob Rigoni took the reins in the second half, scoring 15 of his 18 points to seal the win.
Rigoni shot 6-for-7 in the game, all 3-pointers, and this came after shooting 4-for-6 from deep in the loss at Vermont on Dec. 21.
Jacob Rigoni is fired up after hitting another three, his third of the night. Quinnipiac up 54-53 with 13:11 left. pic.twitter.com/egituzlTpT

— Logan Reardon (@LoganReardon20) December 29, 2017
"(Rigoni's) a really good shooter, but what I don't want to happen to him is to get typecasted and fall into that label of a shooter," Dunleavy said. "He's so much more, and that's what we're going to hold him to and push him and be really hard on him because we need even more out of him."
After playing single-digit minutes in three of Quinnipiac's first seven games, Rigoni has now played 20 minutes or more in its last five contests, including 37 against Vermont.
"I still feel confident (regardless) of how many minutes I'm playing," Rigoni said. "I think the guys have a lot of trust in me to make shots and we work on that a lot, but the team does a good job of getting each other open."
If the Bobcats can keep putting together well-rounded performances like Thursday night, they should finish in the middle of the pack in the MAAC, and in what was the first year of a massive rebuild, a result like that would be monumental for Quinnipiac men's basketball's future outlook.