Runnin' the Point: Unexpected faces producing big for Bobcats
[media-credit id=2200 align="alignright" width="300″]
[/media-credit]Just three days after a disappointing return home against Maine on Sunday, the Quinnipiac men's basketball team completely flipped the script on Wednesday against UMass Amherst.
Against Maine, Quinnipiac couldn't get any stops in the first half, giving up 46 points and allowing the Black Bears to shoot 10-for-14 from downtown. Quinnipiac nearly erased the 23-point halftime deficit, but ultimately fell 78-72.
"They really made a lot of shots, but our defensive intensity from the first half to the second half was just not the same," Quinnipiac head coach Baker Dunleavy said after the loss. "(We're) just not bringing the initial intensity."
The Bobcats were able to wreak havoc on the defensive end in the second half with their 1-2-2 press, something that Dunleavy would like to use more frequently, but believes is difficult with the personnel on his roster.
"When you have an eight-to-nine man rotation, it can be tough to press for a full game," Dunleavy said. "It's definitely a thought (to press more). We have to figure out things that will mentally get our guys more aggressive to start games. We're not above any adjustment."
[media-credit id=2200 align="alignright" width="300″]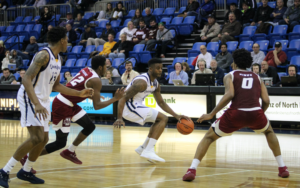 [/media-credit]Part of that adjustment for Dunleavy has included an expanded rotation, mainly in the name of Robinson. Junior guards Andrew and Aaron Robinson have been thrusted into the Quinnipiac rotation, and with the way they're playing, expect them to stay there.
Andrew Robinson has played over 20 minutes in each of the Bobcats' first seven games. In their last two games, he has played season-highs of 26 and 29 minutes against Maine and UMass, respectively. He had a career-high 17 points on 6-for-11 shooting (four 3-pointers) against Maine and 11 points (three 3-pointers) against UMass.
Aaron Robinson is another story. After failing to appear in any of Quinnipiac's first three games, his minutes, and production, have steadily increased over the past four contests.
"I was talking to coach at the beginning of the season and he was just telling me to stay ready because it's a long season and you never know, things change," Aaron Robinson said. "I just tried to keep my head on straight and stay in the gym and keep working at it. I knew my moment was going to come, and once it came I had to take advantage of it and not let it get away from me."
Aaron Robinson is surely making the most of his minutes. Against Maine, he finished with a solid stat line of four points, four rebounds and three steals. In the win over UMass, he had eight points on 3-for-4 shooting (two 3-pointers) with a team-leading seven rebounds.
The best part of his emergence has been playing with his brother Andrew. The twins have been on the court together frequently over the past two games, and have a sort of unspoken chemistry that no other teammates have.
"It's awesome, we've been (getting buckets together) since out of the womb," Aaron Robinson said. "I know where he's going to be at and he knows where I'm going to be at. It's fun being able to play with him and contribute together."
Quinnipiac has certainly started playing better since Dunleavy expanded his bench. In the last three halves of basketball they've played, the Bobcats have held opponents to 32, 29 and 37 points for an average of 32.7 points per half. At that rate, Quinnipiac can be competitive with just about anyone they will play.
"We talked about (playing for a full 40 minutes) in the locker room," Dunleavy said after the win over UMass. "We can't measure ourselves just based on the result as much as we can base on how complete our effort was and how many minutes was our effort there. It probably wasn't exactly 40 (minutes) tonight, but it was as close to 40 as we've been."
[media-credit id=2200 align="alignright" width="300″]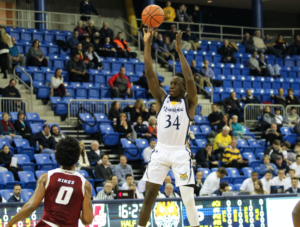 [/media-credit]Outside of the Robinson twins, Dunleavy is also getting key contributions off the bench from junior forward Abdulai Bundu. Bundu's minute totals have varied throughout the early season after starting last year under Tom Moore.
Bundu played just nine minutes without attempting a shot, but grabbing three rebounds, in the loss to Maine. Against UMass, Bundu made his presence felt on both ends of the floor in his 20 minutes of action, finishing with five points, four rebounds and a lot of key defensive stops against UMass center Rashaan Holloway that don't show up on the stat sheet.
Holloway stands at 6-foot-11-inch and 311 pounds, while Bundu is just 6-foot-7-inch and 215 pounds.
When asked how Bundu most affects a game, Dunleavy didn't hesitate.
"Activity. (He has) a high motor," Dunleavy said. "He was making Holloway think and move. [Holloway's] a dominant post player, so if you can move your position and be active, which [Bundu] is the best at, you can be successful."
Quinnipiac's schedule gets busy before the holidays, as it plays three road games in the next week. The Bobcats travel to Pennsylvania to play Lafayette on Saturday, then play at Columbia on Monday night before coming back to Connecticut to play at the University of Hartford on Thursday.
This part of the schedule will be a tough one for Quinnipiac. It is on the road for its final five games of the non-conference slate before opening MAAC-play at home against Monmouth on Dec. 28.
The way that Quinnipiac performs on this road trip will be a key indicator of the direction this team is headed going into conference play. If they can keep getting production out of their bench like they have recently, the Bobcats could find themselves in better shape than expected going into the MAAC season.