Cheer controversy fuels Title IX debate
It's official, cheerleading is not sport. At least that was the decision of U.S. District Judge Stefan R. Underhill, who also ruled that Quinnipiac violated Title IX by failing to provide equal opportunities for athletic participation for women. The suit was brought by the volleyball team, after the school tried to drop the sport and replace it with competitive cheer.
Leo Kocher, president of the College Sports Council, disagreed with the ruling.
"I have seen competitive cheer competitions," he said. "I was impressed with their athleticism and intensity. I think it's bizarre that some federal judge can pronounce it's not a sport. It's unfair to these young ladies who work very hard."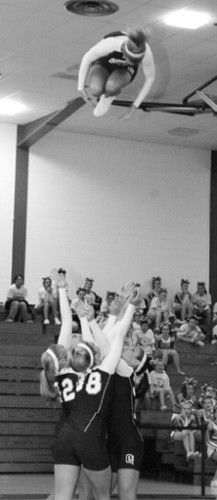 This ruling is just the latest in a long line of battles over the interpretation of Title IX. The law was passed in 1972, and originally made no mention of sports whatsoever. There have been many changes back and forth since then, but the main argument has stayed the same: Should schools have to have the same percentage of male and female athletes as there are male and female students on campus? Or should other factors be taken into account, such as lower interest in sports among women?
"Title IX was meant to prevent discrimination, which is a laudable goal, but the Department of Education yielded to lobbying from special interests to turn it into a quota law," Kocher said. "Quotas are a blunt, destructive instrument."
The biggest development in recent Title IX history has been the Model Survey, which was unveiled in 2005. The survey was designed to gauge students' interest in sports, so it gave schools another way to achieve Title IX compliance besides proportional representation. It was developed in response to complaints that Title IX was now discriminating against male athletes.
The survey never sat well with some, including the National Collegiate Athletic Association, and on April 20, 2010, the Obama administration essentially scrapped it. At the press conference announcing the policy change, Vice President Joe Biden said "what we're doing here today will better ensure equal opportunity in athletics, and allow women to realize their potential – so this nation can realize its potential."
The move was immediately praised by the NCAA.
"The decision by the Office of Civil Rights is a positive step for women who want to participate in college athletics," NCAA Interim President Jim Isch said. "Nearly 200,000 female student-athletes currently compete at NCAA institutions across all three divisions, and while progress toward equity has been made, it has not been fully realized."
Where does all this leave Quinnipiac? On the wrong side of Title IX compliance, according to Judge Underhill.
"I conclude, as a matter of law, that Quinnipiac discriminated on the basis of sex during the 2009-10 academic year by failing to provide equal athletic participation opportunities for women," Underhill's decision read. "Specifically, I hold that the University's competitive cheerleading team does not qualify as a varsity sport for the purposes of Title IX and, therefore, its members may not be counted as athletic participants under the statute. Competitive cheer may, sometime in the future, qualify as a sport under Title IX; today, however, the activity is still too underdeveloped and disorganized to be treated as offering genuine varsity athletic participation opportunities for students."
Since the trial, the national governing body for competitive cheer has voted to change the sport's name to stunts and tumbling, in an attempt to help it become recognized as a varsity sport. John Blake, executive director of the National Collegiate Stunts and Tumbling Association, said "we are excited to announce the name Stunts & Tumbling as yet another sign of the evolution and development of the NCSTA.  As Stunts & Tumbling continues to grow, we look forward to providing even more varsity intercollegiate opportunities for female student-athletes."
Title IX expert Donna Lopiano testified during the trial on behalf of the volleyball team. She told the Chronicle, "I think at a point in the future stunts and tumbling has a prospect of being a sport. But it has to have established rules, a governing body, there has to be enough schools that are playing it to enable schools to have qualified competitive seasons, and there are so many criteria that have to be met."
Lynn Bushnell, vice president for public affairs, released an official statement from the school regarding Quinnipiac's plans moving forward.
"Specifically, Quinnipiac will add a new women's golf team beginning with the 2010-11 academic year," she said. "A new women's rugby program will be added beginning with the 2011-12 academic year… The University also is continuing its commitment to stunts and tumbling, formerly competitive cheer, as a varsity sport. Finally, the University will continue its women's volleyball program for the 2010-11 and 2011-12 academic years."
Kocher plans to continue his fight against the current interpretation of Title IX.
"One of the results of the proportional standard is coaches being told to shrink squads," he said. "It devastates the players cut, and it benefits no one. These are walk-ons who cost the school almost nothing, and they are being denied the opportunity to participate."
The U.S. Commission on Civil Rights released a report on Title IX this past April. Their conclusions support much of what Kocher and other Title IX critics have been saying for years.
"The survey is preferable because relying on proportional representation may result in unnecessary reduction of men's athletic opportunities," the report reads. The commission also said that protections for both sexes should be written into Title IX, not just the underrepresented sex.
Kocher thinks that at this point, it's pretty much settled that proportional representation unnecessarily harms men's athletics. But then why is there so much support for it?
According to Kocher, "this is just bureaucrats looking for something to do, looking to justify their jobs."
Below, WTNH breaks the story on Underhill's ruling