Quinnipiac bounces back with 1-0 win over Vermont
A redemption game.
On Friday, the Quinnipiac field hockey team fell to UConn 5-0 in its first Big East matchup.
Sunday, Sept. 22's game was different with Quinnipiac (2-5, 0-1 Big East) coming out on top 1-0 over the visiting Vermont Catamounts (2-4, 0-0 America East).
Graduate student midfielder Bianka Strubbe was the difference in the match.
[media-credit id=2272 align="alignright" width="300″]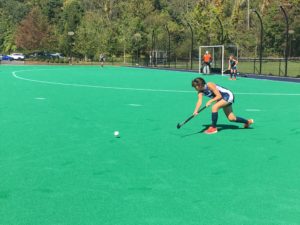 [/media-credit]"Now, I am very comfortable because we practice a lot," Strubbe said. "We really focus on the attack penalty corners. In our practices, I have a lot of shots from different positions, the left and the right and the top of the circle. So, right now I'm comfortable."
It was a back-and-forth affair in the midfield, as neither team found much success on the offensive end. The Catamounts fired first, though, and soon after caused freshman goalkeeper Hedda Biermann-Ratjen to make a sliding block before a shot could get off.
Heading into halftime, Vermont led 3-2 in shots and 2-1 in shots on goal. Vermont's aggression and style were discussed and game-planned for during the halftime break.
"It's not often you play a game from the 25 to the 25 and kind of bounce it back and forth," Quinnipiac head coach Becca Main said. "So, I feel like that's one that we maybe eked out because we stayed calm and stayed composed."
The game heated up following halftime as both teams earned their first penalty corner of the match. Quinnipiac's second penalty corner, however, was the reason behind today's win.
Senior forward Valerie Perkins started with the ball on the end line and passed to senior midfielder Inès Ruiz Martinez. From there, Martinez stopped the ball and Strubbe sent a rocket past Vermont's junior goalkeeper Sierra Espeland.
[media-credit id=2272 align="alignright" width="300″]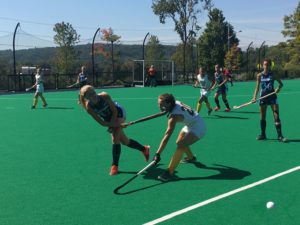 [/media-credit]Strubbe is up to a team-leading and career-high four goals on the season. She gets plenty of opportunities from penalty corners and her hit has been the key to the team's two victories this year. She's scored three of her goals from penalty corners and her fourth came from a penalty stroke.
"We had a spring season with [Strubbe]," Main said. "When you have a spring season, we spend a lot of time on attack penalty corners, on drags and sweeps and hits. She loves to want to drag the ball, it's a kind of dynamic skill, but her hit is so so good that I had to talk her into it."
FH: Under four minutes remain. Quinnipiac is up 1-0 against Vermont.#BigEastFieldHockey pic.twitter.com/3Q9qD3RgNH

— Brendan O'Sullivan (@BOSullivan25) September 22, 2019
Despite being up 1-0, the Bobcats were up against the wall in the fourth quarter. The referee sent sophomore defender Jess Halley out of the game, forcing Quinnipiac to play 10-on-11 hockey. The Bobcats came out unscathed but as the clock kept ticking, the Catamounts pulled their goalkeeper and subbed in an extra position player.
"I think we did a pretty good job with [defending and extra player in the final minutes]," Main said. "It gives you that opportunity where you have to buck up and get ready for it. An extra player in this sport makes a big difference, especially if they play it right, which I thought they did a nice job with it."
The Bobcats improve their all-time record against the Catamounts to 7-1 and increase the win streak to two games.
Quinnipiac looks to get its third win of the season Friday, Sept. 27, against Georgetown at home. This will be the Bobcats' second Big East game of the season.