Men's ice hockey ties Northeastern in season opener
Quinnipiac men's ice hockey tied Northeastern 2-2 at High Point Solutions Arena on Friday night after giving up a late game-tying goal in the third period. In their first game of the season, the Bobcats gave fans a taste of this team's potential.
[media-credit id=2147 align="alignright" width="300″]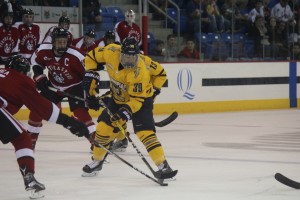 [/media-credit]
The Bobcats controlled a good amount of play in the first period with an offensive-minded attack from the drop of the puck. Northeastern could not find a way to deter Quinnipiac from creating scoring opportunities early in the contest. Junior Andrew Taverner ripped one in to put the Bobcats on the board after a collision at the net involving multiple players. Quinnipiac headed into the locker room at the end of the first period leading Northeastern 9-4 in shots on goal and with a 1-0 lead.
The Huskies took advantage of a power-play opportunity, going backdoor on a one-timer, to tie the game at one with just over 18 minutes left in the second. From there, junior goaltender Chris Truehl had an impressive second period as he saved 16 shots, the most saves in a single period since Michael Garteig had nineteen in the second period against St. Cloud State on Oct. 24, 2015.
"It's been a long time coming," Truehl said. "Being a redshirt sophomore, sitting out for a year was a long year off, so it was exciting to play."
Truehl made two incredible saves early in the third period, proving to be clutch for the Bobcats' momentum to break the tie.
Junior left winger Bo Pieper found a way to sneak one past Huskie goalie Ryan Ruck, giving the Bobcats a 2-1 lead with just over six minutes remaining in the third.
Northeastern pulled their goalie with 1:10 to play in desperation, and it proved to be beneficial as the Huskies' offensive unit punched the puck in with 53 seconds remaining to knot the game at 2-2.
Head coach Rand Pecknold contributed Quinnipiac's struggle to score late in the game on the team's five power-play opportunities, which the team failed to convert any of.
[media-credit id=2147 align="alignright" width="300″]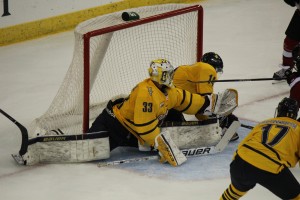 [/media-credit]
"I thought our guys panicked and we lost battles, so it's a work in progress," Pecknold said.
A five-minute overtime gave both teams an opportunity to seal the deal. However, neither team found a way to score. The Bobcats finished the game with 22 shots on target and while Truehl had 28 saves.
In spite of the late goal allowed, Pecknold was eager to praise the Bobcats' new leadership.
"We had some guys in new roles step up tonight," Pecknold said. "Although we panicked a little bit with the puck, we'll clean it up and be better tomorrow tonight."
The team will resume play tomorrow as they host Northeastern again at 7 p.m.