Aldworth leads men's ice hockey past Arizona St.
Freshman Thomas Aldworth earned three points for the second-straight game, as Quinnipiac men's ice hockey routed Arizona State 5-0 on Thursday evening at High Point Solutions Arena.
Aldworth's six points leads all Quinnipiac players in the early going. However, Aldworth's said he is only focusing on competing each game.
[media-credit name="Tyrell Walden Martin" align="alignright" width="300″]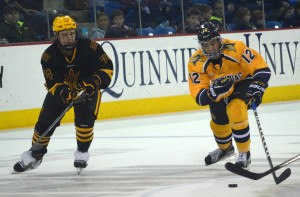 [/media-credit]
"I'm just trying to work hard every game," Aldworth said. "I'm not worried about points."
Aldworth continued the hot start to his Quinnipiac career in the first period. Quinnipiac went on the power play about six minutes into the frame after Arizona State's Anthony Croston went to the penalty box for tripping Quinnipiac co-captain Sam Anas. Aldworth fired a shot from the right side past Arizona State goalie Ryland Pashovitz.
Quinnipiac goalie Michael Garteig, who stopped all 14 shots that came his way, earned his third career assist with a pass that kicked off the play.
Aldworth struck for his other goal in the second period to give Quinnipiac a 2-0 lead. Derek Smith held the puck on the left side and slid a pass in front of the crease. Aldworth sent the puck into the net before Pashovitz had time to slide over.
Tanner MacMaster also earned an assist on Aldworth's second goal. After the game, Aldworth said that his forward line with Macmaster and Soren Jonzzon is starting to take shape.
"Those two guys are really fun to play with. They're all fast as well, so we play well together," Aldworth said.
Devon Toews gave Quinnipiac a 3-0 advantage midway through the period. He brought the puck all the way up from the defensive zone before passing the puck to Jonzzon. Jonzzon dumped the puck back to Toews who put the puck past Pashovitz to complete the give-and-go goal.
Anas matched Aldworth with his third goal of the season just a minute and a half into the final period. He sniped a shot from beyond the left faceoff circle for the unassisted goal that put Quinnipiac up 4-0.
Quinnipiac head coach Rand Pecknold said recognizes a similarity between Aldworth and Anas.
"We're three games into the season and (Aldworth) is not perfect," Pecknold said. "He's getting there. He's really improved. It's similar to where we had Sam as a freshman."
Quinnipiac's co-captain, Travis St. Denis, put the stamp on the win. St. Denis scored a 5-on-3 power play goal from a short angle on the right side of the red line with eight minutes left in the game. Toews and Aldworth assisted St. Denis on the final goal of the game.
Although Quinnipiac won by five goals and outshot Arizona State 57-14, head coach Rand Pecknold said it was a defensive play in the third period that indicated his team's performance.
"The highlight for me was when we were up 5-0 late in the game and Connor Clifton drops to block that shot," Pecknold said. "That's what we want to do. That's what we need to do. That type of character wins hockey games."
Arizona State is now 1-2-0 in its inaugural season as a Division-I team. The team plays at UConn and Sacred Heart over the next two days. Head coach Greg Powers said this is a game that the team will learn from moving forward.
"That is what you define, as a coach, as a 'prime teaching moment,'" Powers said. "We'll take what we need to from that butt-kicking and move forward."
The Bobcats, on the other hand, host Maine on Tuesday night. Aldworth said he is excited to play his first Hockey East foe.
"It'll be a good test for us. They're a good team. Hockey East is a good conference. They're a fast, skilled team from what I heard, so I look forward to playing them," Aldworth said.
[twitter-follow username="MolesDontSki" scheme="dark"]