Top 'Cats On Campus
[media-credit id=1459 align="alignright" width="300″]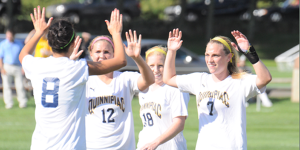 [/media-credit]It has been 14 years since the Quinnipiac women's soccer team jumped out to a 3-0 start. With a combination of veteran players and youth, the Bobcats have started the season off with a bang.
Within the last two weeks, the Bobcats (4-0-1) defeated Providence, Vermont, Holy Cross and Hartford. The only blemish in their record comes from New Jersey Institute of Technology, which ended in a 0-0 tie.
On Tuesday, Quinnipiac was ranked in the NSCAA Division I Northeast Regional Poll at No. 9. They join the rankings along with 10 other schools, eight of which are from the Big East conference. Quinnipiac stands alone as the only team for the Northeast Conference to make the list.
"It is nice to be back in a regional ranking again; however, it is more important to be ranked after the season than after five games," Quinnipiac head coach Dave Clarke said. "A lot of effort has gone into getting us to this point, but a lot more work needs to be done to get us to where we want to be in November."
Quinnipiac hasn't seen a start like this since 1998 when it joined Division I.
"I'm certainly happy, but most coaches know the differences between winning and losing," Clarke said. "I've been doing this long enough to know those games could have gone the other way. Last year, we were on the other side, where we were losing games and we didn't get the breaks."
Last season, the Bobcats went 5-10-1, when they started the 2011 season off with a 0-4-1 record.
Despite losing last season's senior standout Furtuna Velaj, Clarke explained the team is working to fill the holes with a new style of play and is working together to overcome any obstacles.
Velaj led the team with six goals last season, as well as being the team's point leader, registering 14 points. During Velaj's first three seasons she tallied 80 points combined and led the team in scoring every season.
"The style of play is not as attractive as it was in the past, but they are all working for each other. There are no egos on the team," Clarke said.
Clarke expressed how important the cohesiveness of the team is this season and how seniors are becoming leaders and stepping up their game. Senior Kemesha Woodfine has improved upon her quality of play. Woodfine was named College Sports Madness Player of the Week Sept. 4 and Northeast Conference Co-Player of the Week after scoring two game-winning goals.
Woodfine also explained that the new stylistic approach Clarke is teaching highlights the importance of defense and putting pressure on other teams.
"It's just been hard work from everyone and discipline," Woodfine said. "It's just the camaraderie within the squad and everyone is pulling for each other."
Woodfine did not record any goals during the 2011 season and only registered one assist.
"Kemesha has a lot of potential," Clarke said. "She's added fitness and consistency to her game. She's also content with life at Quinnipiac and life off the field, which, I think, is culminating into good performances."
Clarke also added how successful senior Shauna Edwards is becoming this season. Edwards recorded only one assist within the last five games, but Clarke explained her focus isn't on scoring the goals, but rather on creating the plays.
Edwards registered three goals and three assists last season, second in points to Velaj with nine.
Despite all the offensive attention, it is the defense that is holding the team together. Goalkeeper Jill Kelley has recorded a shutout in three of the team's five wins, allowing just one goal this season. Kelley has also tied her win total for all of last year six games into the 2012 season. Thanks to those numbers, Kelley was already won two NEC Defensive Player of the Week awards.
"We've really tried to adapt to what Dave's been telling us," the senior goalkeeper said. "It's a whole new style and we've kind of just refaced the whole defensive mindset of everyone that's playing. We really try to keep up the communication and make sure that we're all covering for each other. We are a lot tighter this year then we were last year and we are all playing for each other and want the best out of everyone so we demand the best out of everyone."
Kelley explained the different mental preparation coming in for a fifth year with the team and how she is more of a player younger teammates can look up to and understand where they fit in within the program. Kelley was granted a fifth year of eligibility by the NCAA when she missed all of her sophomore season with a knee injury. With six freshmen, four seeing significant minutes, Kelley's positive outlook and attitude are necessary for the success of the team.
Freshmen Amanda Barroca and Nicole Eriksen both started the last five games, and freshmen teammates Shannon Larkin and Jessica Jankowski also are seeing plenty of game time.
Larkin registered the only goal in the 1-0 victory against intrastate rival University of Hartford on Sunday. Following the goal, Larkin was named NEC Co-Rookie of the Week for the first time in her career.
Despite the successful start, both Clarke and Kelley explained the most important game is against Fairleigh Dickinson University to start off conference play.
"We just have to take every game as it comes and really think about our next opposition," Kelley said. "We work all practice toward the next game, we don't look past it. Winning these games in the beginning is great, but our final mentality is Sept. 21, playing FDU in our first game of the NECs."