Furtuna Velaj copes with lockout, plans for overseas
One moment Furtuna Velaj was on top of the world, waiting to hear back on whether or not she could achieve another one of her dreams – a big step toward accomplishing her ultimate one that she had since she was little.
And then the next moment, Velaj, who months before had just finished her final soccer season as a Bobcat, was back to the drawing board with some ideas of where she would play.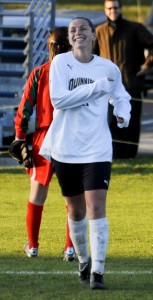 Velaj had tried out for the Philadelphia Independence of Women's Professional Soccer, one of the premier women's soccer leagues in the world that features players among the likes of Alex Morgan and Amy Rodriguez, who both played on the U.S. National Team last summer. But a day before Velaj was supposed to hear back from the team, she found out that the league had canceled its 2012 season.
"It was really disappointing," Velaj said.
Velaj found out on ESPN that the season was suspended because of a dispute with a former owner.
"Making the decision to suspend the 2012 season was a difficult and painful one, but it's necessary to take the time to address current issues and solidify our business in order to provide appropriate support needed to achieve the League's long-term goals," WPS CEO Jennifer O'Sullivan said in a press release on Jan. 30.
Velaj had two more tryouts planned in case the team didn't make an offer to her, but she said the two-day combine went well. She said that she thought she would fit well into Philadelphia head coach Paul Riley's system.
"The actual Philadelphia team, is very, very good. They have amazing players on that team," Velaj said, mentioning Rodriguez and Tasha Kai, who won a gold medal with the U.S. Women's National Team in the 2008 Olympics.
Velaj said that Riley's system focuses on players that have a good soccer sense and field vision.
"[Riley] likes very technical players," Velaj said. "The reason why I thought I'd be a good fit to play in Philadelphia is because of the system they play in, the type of players he likes, and I think I'm one of those players."
Since the WPS canceled play, Velaj has looked elsewhere to continue to play. She has expressed interest in playing overseas in Iceland, Sweden and Germany, though the German league has already started play.
"For me, the reason I want to go pro is that I think I can still get better as a player. I don't think I've reached my full potential as a soccer player," Velaj said. "I still have a lot more to learn. Physically, I can still become a lot stronger. Soccer-wise, I can still learn a lot more from the game and just being at a higher level."
Velaj also said she wants to see how she compares among other professional players worldwide.
"I want to compete and see where I do compare with other players that do play my positions and that are technical like me," Velaj said. "When you get to the pro level, all of those players are extremely good athletes; not only are they good athletes, but they are very good technically as well."
Velaj got a taste of international play in November when she played for Albania's Women's National Team.
"It was awesome, one of the best experiences I've ever had," Velaj said with a smile.
Velaj scored a goal in Team Albania's 4-1 win vs. Macedonia, but it was the atmosphere that reminded her of her childhood that stood out for her.
Nearly one out of every four people in Macedonia is Albanian, and Velaj remembers seeing a lot of Albanian fans at the international friendly.
"They were singing a lot of Albanian folk songs that I used to hear growing up, so when I was playing in the game I was hearing that," Velaj said. "It made me feel truly at home. It's truly where I'm from. That made it the icing on the cake."
Quinnipiac women's soccer head coach Dave Clarke said that once Velaj had the opportunity to play for Albania, she couldn't turn it down.
"The opportunity to represent her native Albania is one she could not turn down," Clarke said. "To be selected to play for one's country is the ultimate honor for any soccer player and one which only a select few players get to enjoy."
But Velaj has one goal in mind: the U.S. National Team.
She has aspired to play for the U.S. since she was little. When asked what it would be like to play for America, she paused.
"Oh my God," she said, waiting for the words to come to her. "If I play for the U.S. National Team, it's like I completed one of my dreams and one of my aspirations."
When she was younger, Velaj wanted to play college soccer – Division I soccer specifically. When she came to Quinnipiac, she did more than that.
She earned the Northeast Conference Rookie of the Year award as a freshman, as she scored 15 goals and recorded an assist. Throughout her Bobcat career, she has recorded 94 points, second all-time in program Division I history.
Yet Velaj still seeks to represent the United States in international play. Ever since she saw the U.S. win World Cups, Olympic medals and watching the team play on TV, she has pictured herself playing with the team.
"I've had this image in my head that whenever I score, I know exactly what I'm going to do and exactly how I'm going to celebrate," Velaj said. "It would be a dream come true."
Velaj said she knows that obtaining her goal wouldn't be easy. Because of the competition she faces all around, she said she needs to focus on her skills and try to separate herself from everyone else.
"I have a long way to go. It's not something easily attainable," Velaj said. "There are so many girls in the US that do play soccer and the thing with the national team is getting your foot in. I didn't have many opportunities growing up because of financial reasons and things like that, and I didn't have the US national citizenship as well, so now that I will be getting it I will be getting closer to it."
Velaj said if she plays in Europe after graduation, she would need to play her best and be her best to get more recognition to eventually play for the U.S.
"I need to be one of the best players and hopefully that will draw enough attention that [the U.S.] will give me a call-up to one of the camps," Velaj said. "Then when I get to the camp, that's when I'd get compared and see if I fit into their system. Even if you're the best player the coach may think that you don't think that you fit into the system or the dynamics with the team."
She has been training on her own and is doing her best to stay in shape by playing intramural basketball. She has also joined Quinnipiac's women's golf team and is training with the players every day.
"I've really picked it up and like it," Velaj said.
She said she would focus more on golf, staying in shape and getting her bachelor's degree in political science until May, around the time she would leave to play in Europe if she plays. She said that because soccer comes natural to her, she only needs a few weeks to get back into the soccer grind.
"All you need is two weeks to get fit and then work on my technical aspects like finishing, shooting, passing and things like that," Velaj said.
The league said it plans to be back for the 2013 season, and Velaj hopes to play for a WPS team then.
"Ideally I'll stay in the US," Velaj said. "My family's here and my friends are here and I would love for my friends to come see me play soccer professionally."
Perhaps one day she'll have a shot for the entire country to see her play soccer professionally.