Player to Coach: Hauser can't resist QU
Last year, the Quinnipiac women's lacrosse team lost one of its leading defenders to that dreadful thing called graduation. Imagine her teammates' surprise when she returned for a fifth season – not as a player – but as the new assistant coach.
Brittany Hauser liked Quinnipiac so much that she didn't want to leave when she graduated last May. When women's lacrosse head coach Danie Caro and the Director of Athletics and Recreation Jack McDonald offered her the job, she jumped at the chance to remain on campus.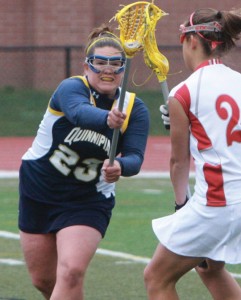 "When the opportunity came that I could stay here, it really wasn't a choice that I could go anywhere else," Hauser said. "I loved Quinnipiac. I loved playing here. I love having the opportunity to stay here, and getting to stay with Danie and learn so much because she's such a great coach."
Excluding the 11 freshmen on the team this year, Hauser gets to stay with her former teammates through their remaining years at Quinnipiac, although her past camaraderie may be a little difficult in her new role. The transition from teammate to authority figure puts a twist on the relationship she shares with the team.
"I think of all the players that I've had go through this program, Brittany was probably the most well-suited to make that transition," Caro said. "I think she was universally liked and respected, and I think because of who she is as a person and the kind of player she was, the transition was very easy. She had a great work ethic, a great attitude, and was always the best kind of teammate, which I think made it very easy for the players that she played with to accept her in her new role as a coach on the team. I think they're a little disappointed that they lost a friend, but certainly happy to have gained her as a coach."
According to senior defender Kaitlyn Kelly, the team responded fairly well to Hauser's switch from player to coach, and that's in part because of the previous connection it shared with its new assistant coach.
"I think everyone knew it wasn't going to be exactly the same as it was last year, but I think for the most part everyone transitioned pretty well into viewing her as a coach and giving her that amount of respect that she deserves," Kelly said.
During her senior year at Quinnipiac, Hauser was named assistant captain, was in the top three for forced turnovers (20) and ground balls (27) and made the All-Northeast Conference Second Team for the third time.
[quote]
She also helped coach the Long Island Yellow Jackets, a club team, and her younger sister's youth league throughout college.
"I think that the experiences she had as a player before we even hired her as a coach, the kind of player she was, told me that she had the potential to be a very good coach," Caro said. "It's obviously why we pursued hiring her, and we were very lucky that she was willing to come back here and work with us and try and continue the growth of the program."
The hardest part of coaching for Hauser? Staying off the field.
"When you're coaching, you can give them all the tools they need, tell them everything they need to do, but you have no control of what they're going to do," Hauser said. "Sometimes it's hard when you're standing on the sideline being like 'no, do this,' and you know exactly what they have to do and just standing on the sideline. You're on that line. You can't cross that line. You can't go on the field anymore."
Hauser didn't realize how much she would miss playing until the day she would have to don a cap and gown neared.
"I loved being out on the field," Hauser said. "It was an escape for me. I felt the most comfortable on the field than anywhere when I was a player."
Despite the possibility of not being able to step on the field as a player again, Hauser doesn't mind too much.
"I would want to [play again], but if I never got to play in a game again, I'd be okay because I'm coaching and I'm still around the sport," Hauser said.
As the women's lacrosse team continues on its path to another NEC Championship game, Hauser will continue to learn and grow as a coach under Caro's guidance. Her passion for the game stays strong.