Quinnipiac volleyball shuts out Manhattan for second MAAC win
[media-credit id=2200 align="alignright" width="300″]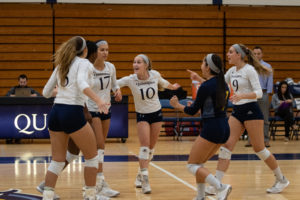 [/media-credit]The Quinnipiac volleyball team dominated the Manhattan Jaspers by a score of 3-0 on Sunday in Hamden, securing its second MAAC win of the season.
The Bobcats (3-11 overall, 2-2 MAAC) won the sets by scores of 25-15, 25-22 and 25-10. The Jaspers fall to 0-15 on the season, with an 0-4 record in the MAAC.
After losing to Iona 3-1 on Saturday, the Bobcats made the necessary adjustments to come out on top against Manhattan.
"We definitely improved on our serving, we didn't miss as many serves today," senior right-side hitter Kat Miller said. "And our blocking and hitting was better."
In set one, after being tied at seven, Quinnipiac rolled and outscored Manhattan 18-8 to win the set 25-15. Sophomore outside hitter Morgan Sherwin led the charge with five kills.
Set two proved to be more of a back-and-forth battle, as each team held leads at multiple points during the set. The Jaspers jumped out to an early 6-2 lead, and Quinnipiac head coach Kris Czaplinski took his first time out of the set.
"[The team] had to fix their energy," Czaplinski said. "It's what it comes down to. They have the technical skills, they have the scouting report, we just weren't executing in a fashion that I thought this program should be."
That fix in energy was evident right after the timeout, as the Bobcats put up six straight points and took a 10-6 lead. Manhattan would come back and it was a fight to the finish, but the Bobcats were able to close out with a 25-22 win.
In set three, it was all Quinnipiac. The Bobcat's lead quickly turned into a 20-5 lead, as they scored 14 straight points and came away eventually with a 25-10 set win, finishing the 3-0 shut out.
For Quinnipiac, it was Sherwin and freshman middle hitter Lydia Jones who powered the offense with 14 and 13 kills respectively. Junior setter Maria Pansari notched 45 assists as well.
The next matchup for the Bobcats will be against MAAC preseason favorite Fairfield, a team that has not lost a MAAC game since 2015. Sherwin knows what the Bobcats need to do to prepare for their tough matchup.
"A lot of hard work, we'll be in the gym for quite awhile," Sherwin said. "We'll be working hard, watching film, and just going over tendencies and everything we need to do."
With the win today, Czaplinski kept it short as to what the team would take away from the game as they face the formidable Fairfield squad.
"To keep winning," Czaplinski said.
The game against Fairfield (5-8 overall, 4-0 MAAC) will be in Fairfield on Saturday, Sept. 29, at 7 p.m.