Rand Pecknold named U.S. Men's National Team assistant coach
Quinnipiac men's ice hockey head coach Rand Pecknold was named one of three assistant coaches for the 2017 IIHF Men's World Championship U.S. Men's National Team on Thursday.
[media-credit name="Chronicle File Photo" align="alignright" width="300″]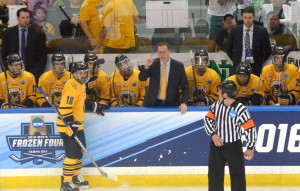 [/media-credit]
The tournament, which will take place from May 5-21 in Cologne, Germany and Milan, Italy, marks Pecknold's coaching debut for Team USA.
"I want to thank Jeff Blashill, Jim Johannson and the US Men's National Team Advisory Group for selecting me as an assistant coach for this year's IIHF World Championship," Pecknold said in a Quinnipiac Athletics press release. "This is an incredible honor and a lifelong dream come true to represent Team USA."
Through 22 seasons as Quinnipiac's head coach, he boasts a 469-279-85 all-time record overall and 274-132-65 in conference play. Additionally, Pecknold is a two-time ECAC Hockey Tim Taylor Coach of the Year and was named 2016 Spencer Penrose National Coach of the Year.
Although the roster is not finalized, Team USA already consists of three players — Daniel Brickley (Minnesota State), Jordan Greenway (Boston University) and Cal Petersen (Notre Dame) — that have most recently played college hockey. 
As USA Hockey welcomes a plethora of young talent, Pecknold can bring his experiences with student-athletes at the college hockey level to the U.S. Men's National Team.
"Being chosen for a role with the U.S. Men's National Team is a great honor and we're very proud of all of his exceptional accomplishments," Quinnipiac Director of Athletics & Recreation Greg Amodio said.
Pecknold will join a coaching staff consisting of Detroit Red Wings head coach Jeff Blashill, former New York Islanders head coach Jack Capuano and former RPI head coach Seth Appert.