Men's soccer earns 2-0 win over Lafayette
The Quinnipiac men's soccer team defeated the Lafayette Leopards on Sunday afternoon in Hamden by a final score of 2-0.
Freshman Eamon Whelan and sophomore Matt Taylor scored for the Bobcats. Sophomore Rashawn Dally picked up two assists on the afternoon and junior Max Rothenbuecher added another.
[media-credit id=2147 align="alignright" width="300″]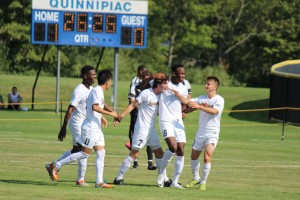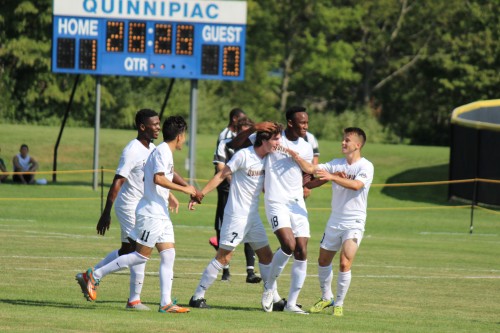 [/media-credit]
Quinnipiac improves to 2-2 for the year following its second consecutive victory while Lafayette drops to 0-4 on the season.
"I still feel like we're a young team that's still making a lot of silly mistakes," Quinnipiac head coach Eric Da Costa said. "We just have to do a better job all around. Certainly results are important and we want to be in this position, but we want to continue to grow and get better."
Whelan's goal came blasting in at the 18:37 mark in the first half off a back heel pass. Dally and Rothenbuecher were credited with the assists on Whelan's second goal of the young season.
"My coaches tell me to always work hard in practice and on the field," Whelan said. "In practice, we always train hard so it just translates right to the field."
Taylor scored at the 70:31 mark in the second half. Once again it was Dally rushing up the left side as he passed it over to Taylor who handled the rest and gave the Bobcats a 2-0 lead.
"Every day we work on it. so I just have to come out and put my team in the best positions to score goals so we can get wins," Dally said on how he excels at setting up his teammates. "I just try to move into the right spaces and get the right balls, and once I get it I just do what I do."
Despite the win, the Bobcats came away uncertain on the status of freshman goalkeeper Chrysostomos Iakovidis, who exited at the 62:11 mark with a leg injury after making six saves.
"We'll take a look at it," Da Costa said. "Our sports medicine staff is great and they'll further assess him and we'll see where we go from there."
The Bobcats take on UMass Lowell at home next Saturday. According to Whelan, the team is "feeling confident" going into that game.
"We are going to get a good week of training in and come ready."