Women's soccer cruises past Catamounts
The Bobcats defense kept the Catamounts in check Friday afternoon, as Quinnipiac defeated Vermont, 2-1. Seniors Shauna Edwards and Kemesha Woodfine registered goals on the day, while Crystal Burns added an assist.
Quinnipiac (2-0) took control in the beginning of the first half, recording their first shot on goal 2:05 into the game. After a Burns corner kick 33:45 into the first half, the Bobcats notched their first goal off the foot of Edwards, giving Quinnipiac a 1-0 lead.
[media-credit id=1514 align="alignright" width="300″]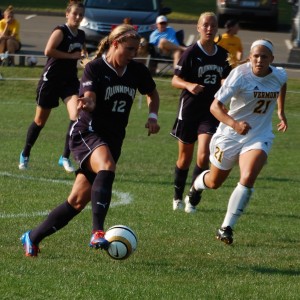 [/media-credit]
"We just put players on the ball who can deliver it, and she's a player who can deliver it in," Quinnipiac head coach Dave Clarke said.
The Bobcats kept the pressure on in the first, taking a total of five shots in the half.
"We've changed the philosophy from what we did in the past couple years, we're playing what's called a pressing game," Clarke said. "What we're trying to do is stop teams playing out, and put them under as much pressure as we can."
In the second half, the Catamounts (1-4) came out strong offensively, in which Quinnipiac responded with stellar defense. A combination of blocks and tackles prevented Vermont from taking many shots and corner kicks, ending with a total of just four shots in the second half. Yet, the Bobcats kept up the offensive pressure, scoring on Woodfine's goal in the 68th minute.
Although Quinnipiac persisted to play quality defense, the Catamounts finally broke through at 43:09, when forward Ellie Mills hit the back of the net past Jillian Kelly to cut the deficit in half. Yet, the Bobcats defense held on during the final 1:51, walking away with a 2-1 victory.
"We kept our formation and we didn't panic. Other than that last goal, they had a lot of possession out in front of us," Clarke said. "It was only that last goal out in front of us where they really got that one chance."
Quinnipiac takes Saturday off before heading up to Worcester, Mass. on Sept. 2 to take on the College of the Holy Cross at noon.