Alwood pushes investigative limits in Eastern Europe
There's a distinct sense of determination in the office of Associate Professor of Journalism Ed Alwood.
It might be the dozens of press passes hanging from the cabinets. It might be the framed Washington Post cover with his byline on the page. Or it might just be the fact that he continues to enjoy the sounds of Czech radio on his computer.
Alwood was nearly killed in the Czech Republic in 2002. After extracting names of former secret policemen in Eastern Europe, he was pushed into a construction pit, broke his back, and contracted MRSA, then pneumonia. But when you're a grizzled journalist like Alwood, you need to have a short-term memory.
"To be an investigative reporter, you can't be scared by things like that," Alwood said.
So there are no bad memories when the Czech disc jockey talks up the next song. In fact: "They just play really good music," Alwood said with a smile.
Alwood's experience in investigative journalism was recently realized on an international level, as he received a Fulbright Scholar grant to teach and do research in Bulgaria. Alwood is the first professor from Quinnipiac's School of Communications to receive the honor, and will be one of 1,100 American Fulbright scholars sent overseas.
"We're thrilled with it," Michelle Moore, interim dean of the School of Communications, said in a phone interview. "It's an honor and recognition of Professor Alwood's teaching accomplishments, scholar research, professional experience and commitment to excellence."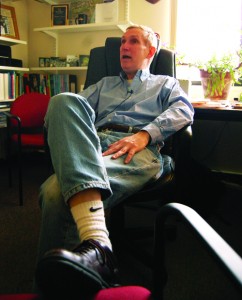 Alwood will spend the 2010-2011 academic year at the American University in Bulgaria (AUBG), where he will teach a history of investigative journalism course similar to the senior seminar he currently teaches at Quinnipiac. But he will also be doing research on investigative journalism in Bulgaria, where six journalists have been killed in the past few years.
According to Alwood, the practice of journalism is the same in America and Bulgaria. The reactions to journalism, however, are radically different.
"The idea of watchdog journalism is just a whole new idea over there," Alwood said. "Asking an elected official challenging questions is not even in their radar. They know about it, but it takes another type of consciousness to do it."
But the times are beginning to change, Alwood noted. He remembered getting caught in a Prague protest not long ago, and soon realized it was a freedom of the press demonstration. Additionally, the Czech Republic adopted a freedom of information act. But casualties do exist, as evidenced by the six deaths, and closer to home with Alwood's Czech troubles in 2002.
But Alwood's fear-not mentality, one that has driven him since his investigative reporting days in the 1970s, will send him back to Eastern Europe with little worry.
"Of all the writers I've worked with, I was the one most likely to carry a concealed camera," Alwood said.
And he isn't joking.
In a 1976 investigative report, Alwood and his cameraman fashioned a suitcase to house a secret camera. He then rigged a concealed switch that allowed him to record, shooting video of a juvenile detention facility for at-risk youths.
"'60 Minutes' tried to do the same report," Alwood said with a laugh. "But they couldn't get in."
The experience of Alwood is something Moore, currently the interim dean in the School of Communications, said reflects a faculty trend in using real-world experience to prepare students for life after college.
"That's how we provide our students with the best exposure to what's going on in the profession," she said. "They help students really understand theories, but also the true skills and insight they are going to need to apply."
And according to Alwood's students, that has meant only good things.
"He knows what he's talking about," broadcast journalism junior Robin Schuppert, a sports writer for The Chronicle, said. "He's been there, done that. He can back up anything he teaches with real-life examples."
Schuppert, who has never taken a class with Alwood, still gets critiques and advice from his advisor on a weekly basis.
"Having Professor Alwood as an advisor and professor has been a blessing," broadcast journalism senior John Merry said in an e-mail. "He is certainly one of the most qualified and accomplished professors here at Quinnipiac. While we differ in age, I communicate with him as a friend, and owe a lot of my accomplishments at Quinnipiac to him."