Quinnipiac volleyball rolls past Saint Peter's in three sets
[media-credit id=2280 align="alignright" width="300″]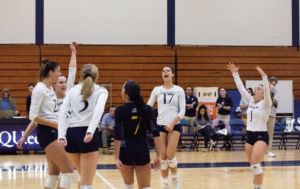 [/media-credit]The Quinnipiac women's volleyball team (5-17 overall, 4-8 MAAC) defeated Saint Peter's (6-20 overall, 3-9 MAAC), 3-0, in Hamden on Saturday.
This was the Bobcats' second straight 3-0 win and head coach Kris Czaplinski is starting to see his team's overall play take the next step.
"We're confident in everything we do," Czaplinski said. "Our offense is thriving because Maria (Pansari) seems a lot more confident with the ball, she's getting it to the right hitters and putting the ball in the right spots."
The first set for Quinnipiac was very up-and-down. The Bobcats were able to score five and eight straight points, but allowed Saint Peters to go on a 4-0 run to tie the contest and a five-point run to make the set 24-22. However, the Bobcats won it 25-22.
Despite all the chaos, sophomore outside hitter Gabby Horman led the way with her play as she finished the set with five kills and three blocks. She finished the game with 11 blocks and six kills.
"I think having a different mindset of going in and getting each point, rather than looking at the whole game affects everyone else," Horman said.
In the second set, the Bobcats found their rhythm as Quinnipiac won 25-16. As for the third set, this was a complete back and forth contest as Saint Peter's stormed back from an 18-14 deficit to cut it to 19-19. Thanks to a kill from freshman outside hitter Maggie Baker, the Bobcats ended up winning 26-24.
The Bobcats also got huge production from senior right side Kat Miller, who recorded her 10th double-double game of the season with 10 kills and 13 digs.
Miller's play hasn't gone unnoticed, as Czaplinski wants to continue utilizing her game with more conference games ahead.
"She's huge, she's our only senior right now and she can hit from anywhere on the court," Czaplinski said. "She was playing a little safe in the beginning of the year with her hitting because the setting wasn't there, but now that the setting is there nobody can stop her.
The Bobcats will have another important game on Sunday, as they will be home taking on a Rider team that is 9-9 overall and 5-5 in MAAC.
Czaplinski expects Rider to bring a high-level of competition and wants his team to continue to take each game one by one.
"They never quit," Czaplinski said. "They are very similar to Saint Peter's in the sense that they are going to give you everything. They have great hitters and a great offense in general so if we get them out of its system by our serving, then that could bode us well for Sunday,".