Quinnipiac women's lacrosse defeated by Hofstra at home, 13-4
[media-credit id=2200 align="alignright" width="300″]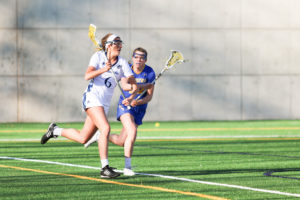 [/media-credit]The Quinnipiac women's lacrosse team had its three-game winning streak snapped on Tuesday in Hamden against Hofstra being defeated by a score of 13-4.
"The team is still making progress everyday and that's our goal and today was definitely not exactly the way we wanted to play," Quinnipiac head coach Tanya Kotowicz said. "Rebounding is going to be the most important and to see how they react at practice is going to tell us how we move forward."
The game started off on equal footing, as the score was knotted at three through the first 7:34 of the game. From there, the Pride (3-2) hit their stride. Leading the way was sophomore midfielder Alyssa Parrella.
Parrella's the leading scorer for the Pride and she played that way today. She came into the game with 17 goals and 22 points and finished the game adding two goals and four assists to that total.
However, it wasn't all Parrella. Freshman midfielder Katie Whelan and sophomore midfielder Alexa Mattera were key pieces to the victory too, according to Bobcats' (3-3) defenseman and captain Kiera Kelly.
"I think overall they balance each other pretty well," Kelly said. "[Mattera, Parrella, Whelan], they all move the ball well and I think everyone being able to handle the ball was a big part in their role."
This led to Kotowicz making a goaltending change by pulling starting goalkeeper senior Kyle Larkin in favor of sophomore Allie Kelsey.
"We have a good backup goalie so making sure we utilize each of their strengths correctly and it was time for allie to come in," Kotowicz said. "I told her she did a great job, there were some shots she should've been able to save and to make sure that she was ready to go back in in the second half."
In Kelsey's relief of Larkin she surrendered seven goals and she came out with 11 saves. Two of these saves came in the first half and were key to keeping the Bobcats' deficit at four going into the half.
[media-credit id=2200 align="alignright" width="300″]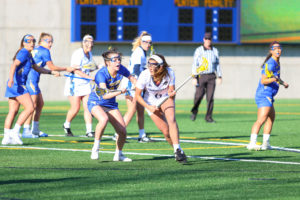 [/media-credit]"I think overall everyone gets pulled," Kelly said. "A middie can get pulled, Allison [Kuhn] gets pulled, Ashley [Bobinski] gets pulled, Maddy [Lamagna] gets pulled, I think it's just knowing each person's strength and the whole point is that someone else can fill in someone else's gap."
Goalie play was strong for the Pride as junior goaltender Maddie Fields had a solid day in net, only surrendering four goals while snagging 13 saves.
"She's an amazing player, they're a very strong team," Kotowicz said. "She did a nice job against us, she exposed our weaknesses."
Despite the loss, Kelly is still able to find positives that as a veteran she can relay down to the younger players on the squad.
"You learn a lesson from every loss," Kelly said. "Losing, you still get to win something because you get to learn something. I think it's also realizing I can work more tomorrow, we have another opportunity to practice tomorrow so why not work."