SGA approves 2017-2018 budgets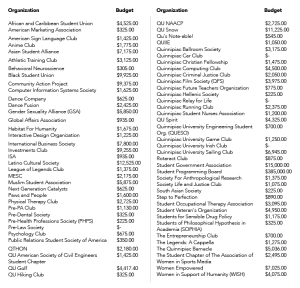 On Wednesday, April 13, the Student Government Association (SGA) voted and approved the new budgets for all chartered organizations on campus. According to former Vice President of Finance George Corde, all competitions and conferences were cut from each organization.
These numbers are the approved budgets for each on campus organization that is funded through SGA.
"We cut conferences and competitions from every group," Corde said. "We prioritized stuff by on-campus events. We kept everything that was on-campus that was in line with the mission of the organization that was requesting that budget, and we cut everything that wasn't."
SGA cut off-campus events for every SGA-chartered organization.
"If an organization wanted to go to the movies or something, that is not in line with their mission as an organization," Corde said.
According to Corde, 73 organizations applied for budgets. Out of those 73 requests, 10 organizations were fully funded.
"This year's budget cuts has really set Global Affairs Association in a difficult position. Most of the budget goes towards attending Model United Nations Conferences at New York University and Georgetown University. We additionally have on-campus events such as student discussion tables and speakers on international relations. It's disappointing to see that the future of this organization is in jeopardy," Gizela Zaqueu, president of the Global Affairs Association said.