QFS's staple Sundance trip gives film students inspiration [Video]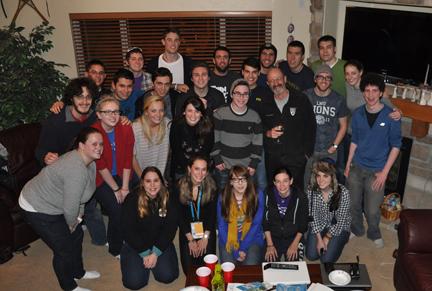 Senior Caitlin Goldberg stood in front of a crowd of 300 students at this year's Sundance Film Festival, and she had to smile. It was the denouement to a journey that began four years ago when Goldberg, a hopeful freshman, applied for a Quinnipiac delegation to attend the Park City, Utah film festival.
"It was my first semester of freshman year," Goldberg said. "I sent in the application, and Quinnipiac was selected. Everyone was speechless."
Four years later, the Sundance trip has blossomed into the staple for the Quinnipiac Film Society, of which Goldberg is president. Twenty-five students, along with Dr. Raymond Foery, attended the 2011 festival from Jan. 20-25.
The trip has evolved into an exclusive affair – this year required Goldberg to create a committee to plan the trip and determine who would attend. It's no surprise, as the trip has drawn rave reviews from those who attended past festivals.
"It's connecting the work that they see to the people that worked on it," Goldberg said. "That, to me, is what's most meaningful. We are collaborators and creators, and one day our goal is for people to want to see our work and connect our faces to our work. With Sundance, you get to do that."
Goldberg also worked part-time for the festival's student programs and community outreach department, where she screened and introduced films, directors and actors to high school students.
Want to know what you missed? Here's a taste, courtesy of the Sundance Film Festival:

Goldberg and seniors Vikki Hart and Joe Carugati attended the festival each of their four years at Quinnipiac. Hart appreciated not only the grand premieres, but the exposure of indepent films. "Bellflower," a low-budget film, was one of her favorites.
"Seeing that, it gives us inspiration for our senior project," Hart said. "We're going to try to push our projects to festivals."
"It was so much to take in," said Tom Galo, QFS's promotions director. "We see how all these filmmakers work from the bottom up and make it all the way to Sundance. It gives us a lot of hope."
Galo's favorite moment? "The Devil's Double," a film about Saddam Hussein's body double.
"It was breathtaking," Galo said. "It was action, it was drama. I felt like I was in the film – I didn't even notice what was going on around me."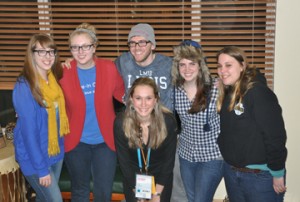 While Goldberg, the Sundance pioneer, will graduate this spring, QFS's Sundance trip will live on. Goldberg hopes to work with faculty and administrators to incorporate the festival trip into the curriculm, possibly providing credit or creating a class.
"The potential for Sundance at Quinnipiac is enormous," Goldberg said. "With the help of the university and professors, and passion of QFS, it will continue to grow and be really successful."