Injustice for all
[media-credit id=2260 align="alignright" width="375″]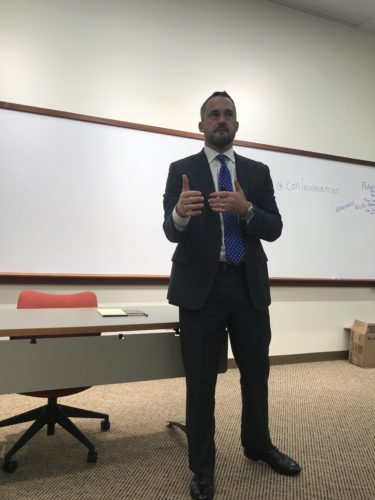 [/media-credit]Attorney Clark Neily of the Cato Institute in Washington, D.C. argued that coercive plea bargaining has effectively killed off the criminal jury trial.
Neily, who served as a senior attorney and constitutional litigator at the Institute for Justice, kicked off the Quinnipiac School of Law's (QUSL) Federalist Society event at the School of Law on Thursday, Oct. 4. Neily called the American criminal justice system a "raging dumpster fire of injustice." 
Neily said this is due in large part to government offered plea deals.
"I'm a libertarian, but I'm not crazy," Neily told a group of approximately 45 law students and professors. "I believe that the government must operate our criminal justice system."
Currently, 95 percent of U.S. criminal convictions and 97 percent of federal criminal convictions come through plea bargains, which are defined as arrangements between a prosecutor and a defendant whereby the defendant pleads guilty to a lesser charge in the expectation of leniency.
However, Neily, who served as co-counsel in the Supreme Court case, District of Columbia v. Heller- the case in which the Supreme Court held for the first time that the Second Amendment protects an individual right to own a gun for self-defense–believes that prosecutor plea bargaining has destroyed the sanctity of true justice.
Neily referenced the Sixth Amendment in his argument, acknowledging that every criminal defendant has the right to a speedy and public trial.
According to Neily, plea bargaining has taken away the transparency of a public trial that we are supposed to be constitutionally guaranteed.
When plea bargaining takes place behind the scenes, Neily believes we end up punishing people more harshly than they deserve or punishing many defendants who may actually be innocent.
"One of the worst places you can find yourself in is jail," Neily said. "Innocent people regularly plead guilty to things they didn't do."
Neily believes sitting in jail while awaiting trial and then seeing your trial date get kicked down the road makes one more susceptible to accepting plea deals that they otherwise would reject.
Another part of the problem, Neily said, is that public defenders are both "under resourced and overworked." Public defenders have a harder time hiring expert witnesses, while prosecutors are continually incentivized to increase their number of convictions.
"I agree that it's a broken system," first year law student Patrick Hoerle said. "We need a broader public education on the issue because right now there is no incentive for prosecutors to change."
Neily also called the justice system a volume business and a "market for plea deals." If prosecutors can avoid spending money on investigations and trials, they will do so.
"We have become addicted to low cost convictions," Neily said.
The issue also lies within conviction sentencing. Neily argued that juries would be less likely to convict a defendant if they knew the magnitude of the potential sentence.
Conversely, Neily accused the government of threatening defendants with unreasonable sentences so that prosecutors can coerce defendants into accepting less severe sentences, and in turn, avoid a jury trial altogether.
Neily cited cases where prosecutors have essentially forced witnesses into cooperation by threatening to indict them for lesser charges.
In making his case, Neily also referenced ideas from lawyer Alan Dershowitz, saying "the problem with bribing a witness is that they will not only sing, but compose."
"It's much worse than you might've imagined," Neily said. "Ripping the criminal jury from the system is a complete disaster."
Neily argued that we cannot possibly have faith in the system when we are not seeing 98 percent of what's going on.
Quinnipiac law professor Linda Meyer, who was in attendance, pointed out however, that there may be mitigating circumstances that make plea bargains a better option for defendants.
Meyer gave an example of a battered woman who may premeditate to kill her abusive significant other. The woman, she argued, would be better off accepting a plea deal and receiving a sentence for involuntary manslaughter, because she would not be able to argue self-defense during her potential trial.
Although Neily admitted that not all plea bargains are bad, he said the system remains "mind-bogglingly tilted."
"We are undermining the integrity of the criminal justice system," Neily said. "I'm not sure it can be fixed."
While Neily is not confident that change can be implemented, he still insisted that "we shouldn't sit still."
"We must impose reform from the outside," Neily concluded. "The current system of plea bargaining is an unreliable process that demonstratively produces catastrophic results."
QUSL's Federalist Society hopes to host at least two more events during the remainder of the fall semester.