Quinnipiac volleyball falls to Iona, 3-1, in MAAC contest
[media-credit id=2200 align="alignright" width="300″]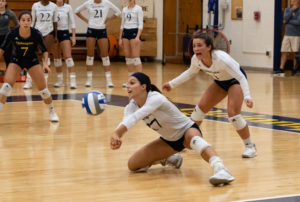 [/media-credit]The Quinnipiac women's volleyball team (2-11 overall, 1-2 MAAC) lost to Iona (4-4 overall, 2-0 MAAC) in Hamden on Saturday, 3-1.
Despite the Gaels being expected to finish second in the MAAC in a preseason poll, Quinnipiac head coach Kris Czaplinski believes his team could have finished the game with a win.
"We approached this week with a lot of enthusiasm to knock off this team at home," Czaplinksi said. "When we execute right I believe that there isn't a team in the conference that can beat us when we do that and I'm looking for us to do that on a more consistent level."
The Bobcats came out in the first set playing a back-and-forth type of style and never trailed by more than three points. It worked as they were able to win the first set 28-26.
They tried to continue that same gameplan in the second set, only for what could be considered the turning point of the game when Iona hit back-to-back aces that just got over the net to win 25-23.
In the third and fourth sets, Iona started to develop a rhythm and won 25-13 and 25-12, the largest deficits of the game.
When asked about how his team needs to find a more consistent spark and motivation, Czaplinski cited that his team should have the same level of energy every time they step onto the court.
"You shouldn't have to motivate your team at all," Czaplinski said. "They should have the inner motivation to do it themselves. As for the coaching staff, we have to do a better job of preparing them every single day, and to learn from this experience and to not let it happen again."
The Bobcats have to turn the page to Sunday at 1 p.m. where they will play their fourth MAAC game and attempt to get their first home win against Manhattan.
As for the Jaspers, they have started their season 0-14 overall and 0-3 in MAAC play. Czaplinski still urges his team to come with the same intensity and fight no matter what record they have.
"We don't look at bounce back games and we don't take any opponent lightly," Czaplinski said. "Manhattan is a Division I-level team for a reason and we will look at them like we do with the top teams in our conference."