Quinnipiac baseball blasts Siena 12-4, improves to 7-0 in the MAAC
[media-credit name="Peter O'Neill" align="alignright" width="300″]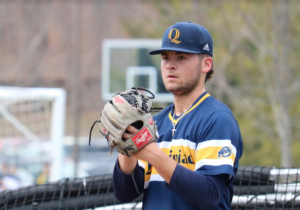 [/media-credit]The Quinnipiac baseball team defeated Siena 12-4 on Friday in Hamden to improve to 7-0 in MAAC play.
The Bobcats (15-17 overall, 7-0 MAAC) got off to a hot start in the bottom of the first inning on a three-run home run by senior infielder Ben Gibson. Gibson ended the day 4-for-5 with two singles and a double.
Gibson's offensive production really had head coach John Delaney on notice throughout the game.
"He swung it well," Delaney said. "One of the things he has done a great job of this year is making an adjustment with two strikes, he stayed within the zone and didn't chase pitches out of the zone and because of that he had a big day."
Gibson echoed those same sentiments and discussed what adjustments he made to his offensive game.
"The past weekend I had a little trouble at the plate," Gibson said. "I worked on controlling my body a little bit and see pitches that I could put a better swing on."
Siena (5-23 overall, 5-5 MAAC) stormed right back in the second inning to take the lead 4-3. But Quinnipiac sophomore left fielder Andre Marrero would not let that phase him as he hit a two-run home run and swung the momentum in the Bobcats favor. Marrero with three hits and three RBI in five at-bats.
"Going off the first at-bat, He threw me a fastball and so in my second at-bat I expected him to come back with it in the inside corner, so I was ready for it," Marrero said.
For Siena, its offense only came in the second inning, as it was held scoreless throughout the rest of the game and watched the Bobcats score seven unanswered runs.
Pitching and defense also played a part in the win as senior Taylor Luciani took the hill for the Bobcats. Luciani gave up four earned runs in the second inning, but was able to keep the Saints bats quiet for the rest of game, finishing with four walks, four strikeouts and allowed six hits in 6.0 innings.
Delaney was pleased with his offense picking Luciani up, but expects more out of his senior starter.
"He was OK to be honest," Delaney said. "That's not the Luciani we know, but he competed and kept us in the game without having his best stuff."
Freshman Arthur Correira relieved Luciani and pitched three scoreless innings, allowing one hit, striking out three and picking up the save.
The Bobcats will take on Siena again in a doubleheader on Saturday in Hamden.
But, how do they keep the same offensive approach as Friday? That answer was given by none other than Gibson.
"I think our biggest focus for Saturday is to come out with energy," Gibson said. "If we come out with the same energy and consistent at-bats, then we can keep it rolling for both games."