Quinnipiac men's basketball falls to Fairfield, finishes the season in the MAAC semifinals
[media-credit id=2158 align="alignright" width="300″]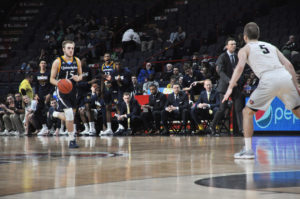 [/media-credit]The March magic ran out for the Quinnipiac men's basketball team as it fell to Fairfield 74-64 in the Metro Atlantic Athletic Conference semifinals on Sunday in Albany.
The Bobcats didn't go down without a fight. Despite trailing by as many as 12, they battled back to take a one point lead with under eight minutes to go in the second half.
"Our guys, like we have all year, kept coming," Quinnipiac head coach Baker Dunleavy said. "They didn't quit. They were talking to each other as they came off the court and in the huddles. I was really proud of them."
The Bobcats got off to a slow start for the second consecutive game, and Fairfield's sophomore guard Ferron Flavors Jr. made them pay. Flavors, who led the Stags with 21 points and a game high 11 rebounds, hit four of his first five 3-pointers to help the Stags gain an early advantage.
While Quinnipiac was able to hold All-MAAC First Team senior guard Tyler Nelson under 20 points, he was efficient, going 5-for-12 from the field and 6-for-6 from the line en route to 19 for the game.
"Fairfield from the last time we've played them they've gotten better, we've gotten better," Dunleavy said. "They took it to just one more level than we could [tonight]."
Even though the Bobcats were able to claim the lead in the second half, Fairfield got multiple big shots from senior guard Jerome Segura to re-take the lead for good. Segura was also key in stopping the Bobcats freshman point guard Rich Kelly, as he held him to just seven points on 2-of-14 shooting.
"Defense is one of my roles on this team," Segura said. "The coaches came up with a great defensive game plan and I just went out there and followed it. We changed the game plan the third time around and it worked. [Kelly] went 2-for-14. [Kelly] is a great player but I think our adjustment really got under him and it worked."
Quinnipiac got a big game from senior guard Cam Young, who broke the school's single season Division I scoring record with a game-high 24 points, giving him 622 total.  Young, who played just eight minutes last season, reflected on the opportunity he was given under Dunleavy and his staff.
[media-credit id=2158 align="alignright" width="300″]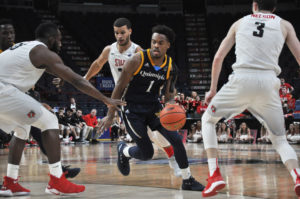 [/media-credit]"[Dunleavy] has meant a lot," Young said. "He's really pushed me. Of course people know I can score but he's tried to challenge me in other ways, tried to get me going defensively and I feel like he brought the best player out of me."
Quinnipiac will graduate four seniors, including Young, forwards Chaise Daniels and Alain Chigha and guard Greg Tarca. With the loss still fresh, Young elaborated on his feelings of leaving the program.
"It sucks knowing I'm not going to be able to go to war with my guys, practice every day," Young said. "It puts me down a little bit, but I love the way that we ended our season. I feel like we fought all season and that's something people can say about us."
While the Bobcats season didn't end with a championship, Dunleavy still feels there are positives to be taken from this experience, especially considering it was the best postseason performance the team has had in four years.
"The perfect way [to end the season] would be a championship," Dunleavy said. "It's important to us that every time we step off the court we can put something out there that we can be proud of and our community at Quinnipiac can be proud of. The basis for that is playing hard and playing together as a group. I have no doubt in my mind we did that, it's just that Fairfield made it hard on us to do it effectively tonight."
Quinnipiac will look to the future, with this season as a stepping stone for the next.
"I told them, what this program does become going forward they've set the foundation," Dunleavy said. "Everybody that's coming back and everybody that's coming in has a huge responsibility to carry forward what these seniors, Cam Young, Chaise Daniels, Alain Chigha and Greg Tarca, have built."
Fairfield, on the other hand, will get a chance to take down No. 4 seed Iona in the MAAC Championship on Monday in Albany.  
As for this group, Dunleavy wouldn't change a thing.
"The game didn't end the way we wanted, but proud of our group," Dunleavy said. "No other group I would rather coach. I thought they were awesome."