Quinnipiac women's basketball advances to fifth straight MAAC Championship game with win over Rider
[media-credit id=2158 align="alignright" width="300″]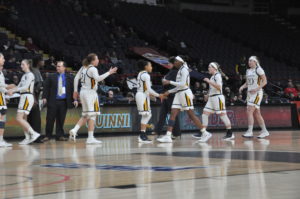 [/media-credit]The Quinnipiac women's basketball team is heading to its fifth consecutive MAAC Tournament Championship game and sixth-straight conference championship game after knocking off Rider, 82-62, on Sunday afternoon at the Times Union Center in Albany.
The game didn't start off the way the Bobcats wanted it to as they failed to score in the first three minutes and found themselves down 12-2.
"We knew going in that it was going to be a competitive, physical, hard-fought game," Quinnipiac head coach Tricia Fabbri said. "…Rider really reeled off a couple of good possession to take the lead."
But nearly halfway through the first quarter, the Quinnipiac team that went defeated opponents by an average of 22.1 points per game in conference play showed up and went on a 21-0 run.
On the defensive end, junior forward Paula Strautmane started the run with two blocks, leading to a pair of layups made by redshirt junior forward Jen Fay to cut the lead to 12-6. Fabbri credits the two blocks as the catalyst for the Bobcat run.
"It certainly was (the spark), it certainly was," Fabbri said. "Our defense into offense had just got us going. We really relaxed and exhaled. I think that in these big games there's always a point where we just need to exhale, and a play happens to settle everybody down and into the game. Even though I think we're ready to go, there's always that moment of anxiousness, and certainly Paula's blocks (were those plays)."
Strautmane got on the board after she made a pair of free throws and junior guard Brittany Martin followed it up with a 3-pointer that cut the Broncs lead to 12-11.
The Bobcats would take the lead on their next possession when Fay made a 3-pointer and following a stop on the defensive end, junior forward Aryn McClure made a jumper that gave  Quinnipiac a 16-12 lead.
On the defensive end, the Bobcats got the Broncs to shoot 0-for-11 from the field and forced seven turnovers during the run.
The Broncs would eventually end the run with a layup from its leading-scorer, sophomore guard Stella Johnson, with 7:35 remaining in the second quarter. But it was too late by then as the Bobcats were up 23-14 as the Broncs never came closer than eight points for the remainder of the game.
Fabbri said that one of her team's biggest strengths is the players' confidence, which came into effect today.
"We're a veteran team that's put ourselves in these positions before," Fabbri said. "I've talked about a strength of this team is confidence, it's poise and composure and today was another example of it."
[media-credit id=2158 align="alignright" width="300″]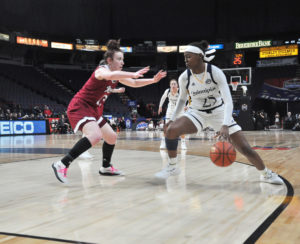 [/media-credit]Part of the reason why the Bobcats were able to continue to roll was due to the performance from McClure. McClure scored 10 of her 24 points in the third quarter as the Bobcats started to put the Broncs away.
The point total was one short of her season-high of 25 points, which came against Marist on Feb. 18, and four points short of her career-high of 28 points, which actually came against Rider in the 2017 MAAC Championship Game.
"Rider, they play me really tough. Stella Johnson's a great defender," McClure said. "I feel like I play better against tougher competition, because then I have to rise my game. So I think that helps me perform pretty well against them."
Following today's game, McClure has 995 career points. If she gets 1,000 career points, she'll be the 22nd player to do so in program history and the 13th to do it since the program moved to Division I.
Quinnipiac's next opponent will be No. 2 seeded Marist, a team that the Bobcats defeated twice this season. However, the Red Foxes gave the Bobcats their two toughest games in conference play this season, with the Bobcats winning 62-56 at home on Jan. 11 and on the road 80-74  in double overtime on Feb. 18.