Quinnipiac men's basketball beats Fairfield 75-70, wins third straight
[media-credit id=2200 align="alignright" width="300″]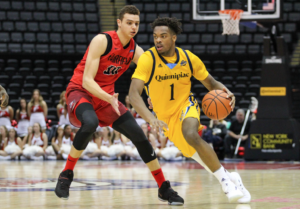 [/media-credit]The Quinnipiac men's basketball team withstood a late run to defeat Fairfield 75-70 in the first game of the MAAC Tripleheader played at Nassau Veterans Memorial Coliseum on Saturday afternoon.
The Bobcats (9-13, 6-4 MAAC) led by as many as 11 in the second half, but a 9-2 run by Fairfield (7-13, 2-7 MAAC) cut the lead to just two with 55 seconds to play. However, senior guard Cam Young made 3-of-4 free throws down the stretch to seal the Bobcats third straight victory.
It was yet another close game for the Bobcats, as two turnovers on inbounds plays late in the contest allowed the Stags to creep back into the game.
"On this stretch where we've been playing better, I think that we've closed out games better," Quinnipiac head coach Baker Dunleavy said. "This was a hiccup today, but now is the time to learn and it's nice to learn from a win as opposed to letting them come back in game that we lost. So, we'll take it, but there's not going to be a ton of celebration on our part, we need to get back to work, we need to get a lot better."
Dunleavy was proud of his team's defensive effort as the Bobcats held Fairfield and MAAC-leading scorer Tyler Nelson to just 13 points on 4-of-18 shooting. Nelson came in averaging 21.2 points per game, but the trio of Young, graduate student guard Isaiah Washington and junior guard Aaron Robinson kept Nelson in check all game.
"I think our guys really chased him around the court," Dunleavy said. "It's really hard to do that. So, when you do that, you kind of sacrifice your offense, you sacrifice your energy for the good of the team. [Young, Washington and Robinson] did that, and like I said before the game, our goal was to make him uncomfortable."
Washington, who also had 11 points on 4-of-8 shooting, spent the most time shadowing Nelson. While he did pick up four fouls, his defensive effort helped the Bobcats get and maintain the lead.
[media-credit id=2200 align="alignright" width="300″]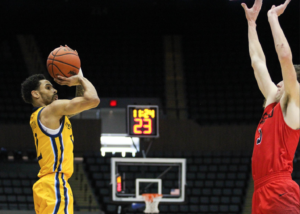 [/media-credit]"Coach talked a lot about focusing on defense and letting your offense come to you," Washington said. "I knew what a big part of what they do was through him, so I tried to, like coach said, sacrifice myself for the team on defense and the shots just kind of came."
Washington was one of five Bobcats in double figures, with Young leading the way with 15. Junior guard Andrew Robinson added 14 points off the bench, including back-to-back threes in the second half that helped keep Quinnipiac up by nine.
"I think we really needed [the balanced scoring]," Dunleavy said. "The way (Fairfield) was playing, really aggressively defensively, it wasn't easy to just make a play call from the bench and execute what you want. We kind of had to take what was there. Our guys stepped up, took what was there, Andrew ended up with some really good looks, and he's a terrific shooter. All of our guys are always ready to make those contributions."
Quinnipiac shot over 40 percent from both the field and 3-point range, while holding Fairfield to just 33.8 percent from the field. The Stags started the game 3-for-8 from beyond the arc, but the Bobcat defense held them to just 6-for-30 for the game.
"Defense has got to be the core staple of our program so to see it progress is very satisfying," Dunleavy said.
While they have played in their fair share of close games, the Bobcats are off to their best start in conference play since the 2013-2014 season. Quinnipiac has already matched last season's win total and, while Dunleavy says they have the harder part of their schedule coming up, it's something that Bobcat fans can get excited about.
"We're getting better and as a coach that's all I can ask for," Dunleavy said. "And if we keep doing that every day, I think we're going to like where we are going to be at the end of the year."
Quinnipiac will look to win its fourth straight as they travel to New Rochelle, New York to take on Iona on Friday.