Quinnipiac women's basketball defeats Dayton, 72-66
[media-credit name="Morgan Tencza" align="alignright" width="211″]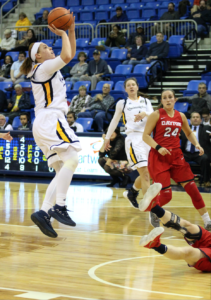 [/media-credit]The Quinnipiac women's basketball team (2-3) may have led wire-to-wire in its 72-66 victory over the Dayton Flyers (5-2) at home on Tuesday night, but that doesn't mean that they dominated the game from start to finish.
In fact, the team only carried a 29-24 halftime lead after it led by eight at the end of the first quarter. The Flyers were even able to cut the Bobcats lead to 34-31 with 7:09 left in the third quarter.
But that was the last time Dayton would be within one possession of Quinnipiac's lead. With four minutes left in the third, the Bobcats led 38-33 before sophomore guard Vanessa Udoji hit a 3-pointer to begin an 11-1 run over a three minute span to put the Bobcats up 49-34 with a minute left in the third quarter.
Udoji made a second 3-pointer to bookend the run which helped get her out of the 2-for-9 (22 percent) shooting slump she had before the run.
"For any player, when the ball's not going in for you it kind of drains your confidence," Udoji said. "But one thing that really helped me was the coaching staff (and) my teammates. Everyone was telling me 'next play, next play.' Just short-term memory is something that's really key for any player."
Udoji hit what seemed to be the dagger with 2:41 remaining when she made a move along the baseline to get the ball around a Flyer defender. She then got to the other side of the rim and completed the reverse layup to put the Bobcats up 65-54.
[media-credit name="Morgan Tencza" align="alignright" width="300″]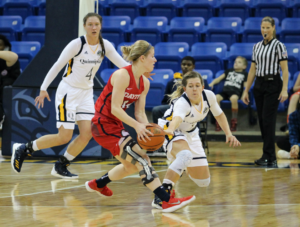 [/media-credit]Tuesday's win was the second in a row for the Bobcats after they started the season 0-3 against teams from power conferences (Iowa, Missouri and Ohio State). But Dayton is no slouch either, as it won the Atlantic-10 Championship last season.
"I thought wire-to-wire, it was our most complete four-quarter game," Fabbri said. "Now we've been able to put seven quarters in a row. And at this early part of the season, you want to see improvement every day and we're seeing that. I think it's hard to, when you're playing the competition that we're playing, that even when we're having some losses, we're doing some good things."
And while it was Udoji that was the catalyst of the stretch that helped put the Bobcats over the top, it was senior forward Sarah Shewan that had the performance of the night.
Shewan had 24 points and 13 rebounds in the Bobcat win. The 24 points was a career-high and the 13 rebounds was the second-highest of her career. Shewan also made four free throws in the fourth quarter that would help cap off a victory before she fouled out with 25 seconds left.
"Sarah has been so good for us," Fabbri said. "… it's nice that you have players so that you're not counting on the young ones to come in and make that big jump. Sarah has so much experience in the program and playing and has been pivotal to this program and our success."
Shewan's night got off to a hot start, as she scored five of Quinnipiac's eight points on the 8-0 run to start the game and finished the first quarter with 10 points and eight rebounds. It was also Shewan's first start of the season, as junior forward Aryn McClure was out due to a minor injury sustained in Monday's practice.
"Definitely missing Aryn, I felt a little bit of pressure," Shewan said. "In saying that, I wanted to play for her because she wasn't there. And I think that's what really helped me and helped me offensively as well."
[media-credit id=2200 align="alignright" width="300″]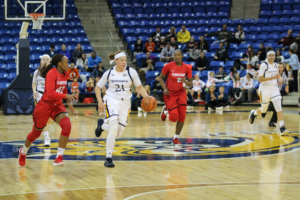 [/media-credit]Even though Shewan had 13 rebounds, redshirt junior forward Jen Fay led the way with a game-high 14 rebounds. She also chipped in six points and seven assists.
The Bobcats will play again on Friday night at Richmond University and will stay in Virginia to face Hampton University on Sunday. Fabbri expects McClure to play this weekend.
"Yesterday in practice, (McClure) took a knock," Fabbri said. "… obviously we were all a little nervous not having Aryn suited up. I think (she'll go through) the normal protocol and I think moving forward that she's responded really well and feeling good that we would have her services for the weekend."