Carey on
[media-credit name="Photo courtesy of Pixabay" align="alignright" width="300″]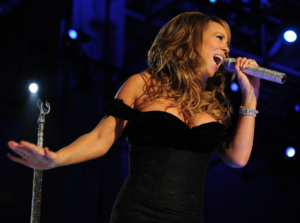 [/media-credit]"I am so happy you guys came all the way out here to see me," crooned a beaming Mariah Carey, clad in a form-fitting red gown and towering stilettos. "We're gonna have a moment together tonight."
The R&B hit maker took the stage at Foxwoods Resort and Casino on Oct. 14 in the Grand Theatre, marking Carey's first concert in Mashantucket since her "Angels Advocate" tour in 2010. This time around, she performed in support of her nostalgic "Sweet Sweet Fantasy" tour.
The show opened with Carey being pushed onto the stage atop a befitting throne for her title as 'the Queen of R&B.' She announced that she "came to have a party" as she belted the opening line of her 2005 hit "It's Like That."
What followed was a set list that had even casual fans swaying in their seats. Carey has amassed an unprecedented 18 number one singles since her debut in 1990, and it would be difficult to not have fond memories of "We Belong Together" or "Always Be My Baby" dominating the airwaves in years past.
Despite a massively successful career, Carey has had a tumultuous past few years, beginning with her ill-fated stint as a judge on American Idol in 2013. From there, the superstar endured a divorce, a major shoulder injury and two catastrophic performances on live TV.
With some of her recent fiascos in mind, it was hard to not feel a little nervous for Carey, especially before she went for some of her famous high notes, but the songbird was on top of her game Saturday evening – hitting all the right notes, playfully chatting with the crowd and looking half her 47 years.
The highlights of the show came when Carey performed her most iconic hits, such as "Emotions," and "Obsessed." Before closing out the show with "We Belong Together," Carey took it way back with her first ever single, 1990's "Vision of Love," which also happens to be one of her most vocally demanding.
"We weren't supposed to do this song tonight," Carey confessed. "But it was the first single, and we'll do it just for laughs."
Although apparently unplanned, her performance of her debut single made for one of the most unforgettable experiences of the entire evening. It was obvious Carey was putting her full effort into the song; it means a lot to her fans, or the "lambily," and to the singer herself. The final note of the song was as resonant and powerful as it was in 1990.
While she may have a reputation of being a diva, Carey's witty and distinctive personality was on full display the entire evening. She made frequent use of her many catchphrases, asking audience members if they were enjoying a "splash," having several "moments" and interrupting her set list to get a touch up from her "glam squad."
The hip-hop legend has a busy few months ahead of her. In November, she will embark on her "All I Want for Christmas is You" tour, playing shows in cities across North America and Europe, including New York City. Additionally, she is planning the release of a yet-untitled album sometime before the end of 2017, due out on Butterfly MC Records, a partnership with Epic Records Carey formed earlier this year.
After thunderous applause from the crowd, Carey closed out the night with an encore performance of her eighth #1 single, the tenderly inspirational "Hero." As as she sweetly sang her 1993 hit, tears began streaming down the songstress' perfectly made up face. And for a moment, the diva was as human as the sea of loyal fans cheering her on.