School of Communications announces 'Agency' class for spring 2018
By: Nick Slater and Kim Kerremans
[media-credit id=2182 align="alignright" width="300″]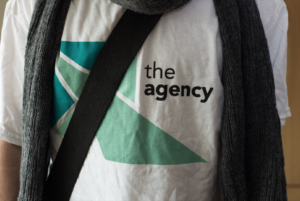 [/media-credit]The School of Communications is happy to introduce The Agency, a new class directed by Assistant Professor of Strategic Communication Katie Place and Assistant Professor of Interactive Media + Design Courtney Marchese.
"The Agency is a premiere student-run agency to offer services in advertising, creative design, public relations, and media research for clients from across the country," said Marchese.
The goal of The Agency is to be a bridge between Quinnipiac and the workplace. The class is geared towards giving communications majors real-world experience.
"(Students) get the experience and they get all of these portfolio and résumé boosters (from The Agency)," Place said.
Currently, Marchese and Place are taking groups of students to various agencies in the area to expose students to professional agency environments in order to gain a better understanding of how they operate.
There is an application process and a required interview to enroll in the class.  
Marchese and Place will choose around 15 students to form the staff of The Agency. Marchese says the students will divide into specialized teams to "tackle client work."
The Agency has been a dream of the School of Communications faculty for years. Last year, Marchese and Chair of Advertising and Strategic Communications Hilary Fussel-Sisco received a grant for $15,000 to lay the foundation for the course. Place says that a lot of research, marketing and course development was involved to get the class off the ground.
At the end of this process, Integrated Refugees and Immigrant Services (IRIS) has signed on as The Agency's first client.
The Agency will be a three-credit class listed as a level 400 elective.
"We will also offer a one-credit option for student 'contractors' that help us if we have overflow work that goes beyond what the 15-student agency can handle in a given semester," Marchese said.  
Students feel as though it would be a great opportunity to work with clients. These opportunities could include getting an internship and/or being recommended to other clients. "I don't know what to expect," said Freshman Teresa Bates, a Media Studies major.
The appealing factors students found were working with clients, the possibility of internships. Working with clients could help the students decide which part of the process they are more inclined to enjoy.
Students also feel as though they would be working a real job. Instead of cases given by teachers, the students in this class will be getting real clients and real cases that companies need assistance with.
The unappealing factors are the "long hours" that will possibly be part of the workload. Some students are worried this class will take away time from other classes.
"The application process including the interview sounds time consuming," said Freshman Kevin Higgins, a Journalism major. The class is selective and once chosen you are committed.
All of the students that were interviewed said they feel this class could benefit them and prepare them for the future. "I would learn how to react to different clients. For example, if they are being indecisive, I would learn how to handle that," said Freshman Catherine Donmoyer, a Media Studies major.  
Starting in the spring semester of 2018, The Agency will preferably meet Wednesdays from 9:30 a.m. to 12:30 p.m. Modeled after a real world agency, Quinnipiac's new class plans to one day be a functional agency on its own.