Community protests after controversial Snapchat photo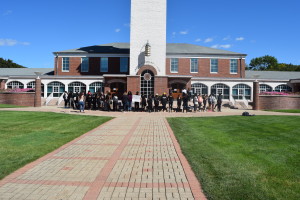 More than 40 people gathered on the Arnold Bernhard Library steps on Sept. 24 for a silent protest after a controversial photo was posted to Snapchat mocking the "Black Lives Matter" movement.
The Snapchat photo went viral on social media Sept. 20. It portrayed a photo of freshman Sarah Goodrich with a charcoal facial mask on, the caption reading, "Black Lives Matter."
Goodrich told Q30 News she did not know the photo had that caption on it and her roommate is the one who took the picture. Vice President and Provost Mark Thompson sent an email to the university community on Sept. 21, which said the student who took the Snapchat photo is no longer a member of the Quinnipiac community and that the university did not take any action against Goodrich because she was not deemed responsible.
The protest, "Take B(L)ack the Quad," was non-violent and took place during the university's open house, an event hosted by the Admissions Department, between 8 a.m. and 3 p.m. Prospective students and their families were being guided in tour groups across the Quad and into the library while the protest was happening.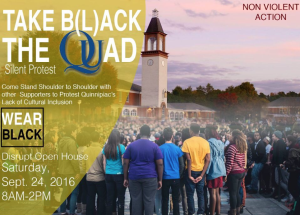 Quinnipiac alum Colby Putnam was one of the people who were protesting. He said he was here to support the black community and raise awareness of racial injustices going on across the country.
"This seems like a visible way to get the attention of people who need to learn," Putnam said. "It wasn't until I actually came to Quinnipiac that I had any notion that racial issues were still a thing. I came from an all white community when I was growing up and it wasn't until I was here that I I started to learn to see that this is still a real issue. We're out here hoping that this will at least bring some awareness to a community that largely seems not to have an awareness that should be there."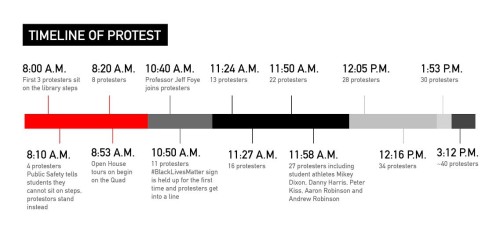 It wasn't only members of the Quinnipiac community who were protesting. Students from Southern Connecticut State University (SCSU) were also showing their support for the Quinnipiac community.
"[We are here] to raise awareness about it and to try and change the culture here at the school because from what I've heard things like this happen often and are swept under the rug," SCSU senior Shannon Harrell said.
Prospective psychology major Elizabeth Mazany and her mother were visiting the open house from New York. Quinnipiac is one of her top schools but the protest does not change the way she feels about the university.
"I guess it can happen anywhere," Mazany said. "People are always going to be weird about that stuff; putting Snapchats up and whatever. It doesn't make me not want to go here."
Quinnipiac sophomore Gobari Idamkue hopes the protest is a visual aid to help people understand how serious this situation is.
"[African-Americans] have had to work hard to build up our self esteem considering our history in this country," Idamkue said. "We're not saying we want to gang up on the girl in the picture or the girl who took the picture… People do stupid things, people make mistakes. We just want people to understand why it was a big deal."
Senior Joanne Jean was protesting with her friends from the Christian Fellowship on campus. She said she hopes to see a positive change on-campus.
"When incidents like racial discrimination occur on the Quinnipiac campus or off-campus, it's not really talked about," Jean said. "I feel like there's not people there to reach out to one another, in particularly, black students who are hurting… I really want to see a change and I don't want people to feel like this is the world that we live in."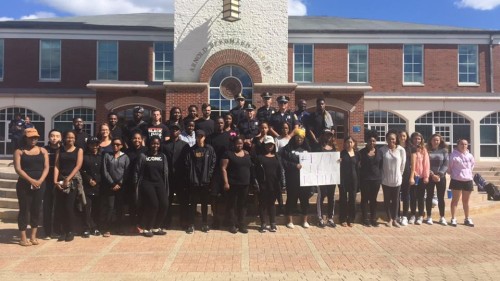 Freshman Rhiannon Murphy was not protesting but admitted she was nervous when she first saw them on the library steps.
"At first I thought it was a bad thing when I saw [the protesters] out there, like it was going to lead to something happening," Murphy said. "Then I saw people shaking their hands and taking their pictures and stuff and I realized it's kind of like a good thing that they're getting the word out saying that they're standing behind the school rather than behind the girl."
President of the Quinnipiac chapter of the National Association for the Advancement of Colored People (NAACP) Chereace Marcellin said she was happy with how the protest went.
"Our goal with this protest was to bring awareness to issues surrounding our community," she said in a statement. "We were happy with the turnout and we will be pushing for more change moving forward."
Vice President for Public Affairs Lynn Bushnell said the university plans to continue the discussion on race and diversity across campus.
"A small group of students gathered peacefully on the Mount Carmel Campus without incident on Saturday," Bushnell said in a statement. "As a university that prides itself on its student-centered approach, we will continue our dialogue with students to make sure that we keep meeting their needs.
Reporting by Madison Fraitag, Thamar Bailey, Kelly Ryan, Kristen Riello, Victoria Simpri and Jennie Torres
Article written by Sarah Doiron
UPDATE: Sept. 24 7:21 p.m. – This article was updated to include a statement from Vice President for Public Affairs, Lynn Bushnell.