Health Services offers tests, advice about breast cancer
[media-credit name="Tara O'Neill" align="alignright" width="375″]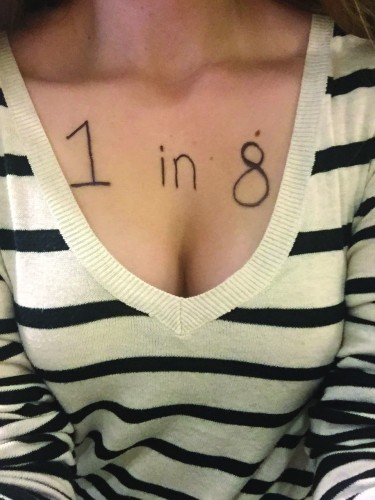 [/media-credit]
October is National Breast Cancer Awareness Month and Quinnipiac's Student Health Services have joined the fight against breast cancer in full force.
One in eight women living in the United States will develop invasive breast cancer over the course of her lifetime, according to the breastcancer.org website. Health Services offers clinics, support groups and education about early detection and preventative methods for students.
Breast cancer is the second most commonly diagnosed cancer among American women after skin cancer, according to the breastcancer.org website. There are currently more than 2.8 million women with a history of breast cancer in the U.S. About 85 percent of breast cancer incidences occur in women who have no family history of breast cancer.
Director of Student Health Services Christy Chase has been working with Health Services at Quinnipiac for eight years. Health Services holds clinics that can test and educate students on breast cancer.
The women's clinic is available Tuesday mornings by appointment.
"This is a good opportunity to do a breast exam and teach self-examination techniques," Chase said. "If any abnormality was detected the student would be sent for further radiological screening and would have follow up based on those results."
Students were both surprised and appreciative to find out the the Student Health Center offered clinics.
"I think that the student health center is effective in helping the prevention of screening and provides assistance to those who don't know how to self check," Sophomore Gabby Cocca said.
Senior Katie Lowe was surprised that clinics were offered.
"I was unaware that the health center did anything helpful or convenient to the students here so I am very surprised that they offer clinics," she said.
Not only does Chase help educate students about signs and prevention, but she is also a breast cancer survivor herself.
"I had a routine mammogram [in] March 2014," she said. "I was called back for a second one the next week which confirmed 'something suspicious.' I was then referred to a surgeon and oncologist. I had biopsies done and then a lumpectomy in April 2014 and an MRI, which indicated more suspicion."
The diagnosis came as a shock to Chase because she had no family history or any risk factors, something she now warns students is not the only ways to get breast cancer. She still managed to have a positive outlook and continue living her life. Chase made the decision to have a bilateral mastectomy and reconstruction in August of 2014.
"I did not want to have MRIs every six months to 'watch,' nor have radiation," she said. "I needed to move forward and not have the constant worry of it coming back. I have not regretted that decision for one minute… This experience has confirmed to me the importance of screenings. My cancer was caught early and therefore I had a great prognosis."
Chase said her co-workers provided her with an overwhelming amount of support. Other women who work with Chase are breast cancer survivors as well and that similarity was 'comforting, and a great resource' to her.
"The hardest part was telling my children," Chase said. "We remained positive and continued to move forward. I am so fortunate because I have a strong support system through my family, friends and coworkers."
Alexandra Clarke, a junior at Quinnipiac, also experienced cancer firsthand. Her mother was diagnosed with breast cancer when Clarke was a freshman in high school, went through chemo, radiation and had two surgeries. She has been in remission for two years.
Clarke participated in Quinnipiac's Relay for Life event this past year and individually raised $100.
"I walked for my mom because she is my rock," she said. "She is what makes me who I am and after she had cancer my whole perspective on life changed."
Clarke's friends at Quinnipiac supported her as she continues to raise money and awareness for breast cancer research.
"I walked with my friends because they were willing to do what they can for my mom and those who are affected just like my mom was," she said. "I felt like I was doing the right thing for those and I felt almost relieved that I was able to walk for those who couldn't. Everyone was just happy to be apart of something so much bigger than just us."