Making history
[media-credit name="Caitlin Cryan" align="alignright" width="447″]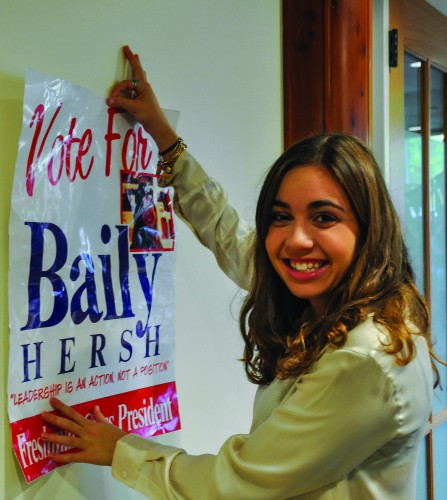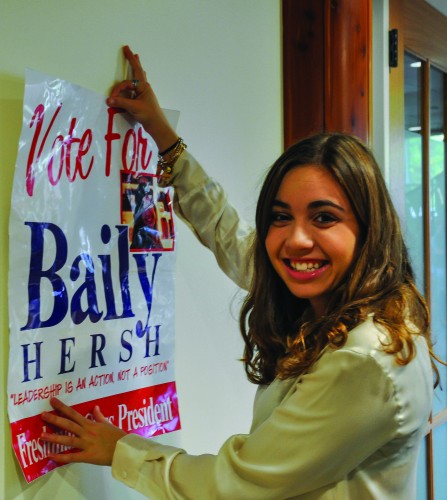 [/media-credit]
The results for the Student Government Association (SGA) freshman elections were posted outside the SGA office in the Student Center around 8 p.m. on Sept. 22. The votes were close and the percentages were tight, but with a total of 304 votes and 29.68 percent of the vote, Baily Hersh became the first female freshman class president in the history of Quinnipiac University.
"I was so scared," Hersh said. "My heart was beating and I was terrified. I was wondering what the end result would be. Did I really have a chance? I had never been that competitive before."
Hersh said the night the results came out she could not focus on homework or think about anything else.
"I got the phone call at 8 p.m. and all my friends were there and we all started screaming when they told me I won," she said with a smile. "This was my first accomplishment at QU and I am even happier that I chose this school; I've never been more sure in my life."
When asked her opinion on why the university has never seen a female freshman president, she answered confidently.
"Our society has changed views and thought that men could only rule and that men were stronger," she said. "But they need to realize that women are just as strong and have just as many goals and opportunities. I want to change that [mindset] and now that I am in a position to make that happen, I plan on doing so."
Hersh hopes being the first female presidents for the freshman class will encourage other women on campus to get involved.
"It's very motivating and empowering to be the first female freshman president," Hersh said. "We can involve more women, and we can empower more women. Next year, I would love to try to get another female president. I think it would be cool to have another female president behind me."
Victoria Johnson earned the freshman vice presidential position with 287 votes and 28.02 percent of the vote. Hersh describes her as motivated, fun and bubbly.
"I am excited to work with her and share ideas with her," she said. "I think it's cool that she is also a female."
Hersh already has many activities and fundraisers planned for the class of 2019. She wants to start with basic needs, such as improving the food in the dining hall, proposing hydration stations in dorm buildings, providing two-ply toilet paper in every bathroom and adding either a Dunkin Donuts or Starbucks to the Mount Carmel campus.
Hersh spoke with SGA President Jonny Atkin about these improvements and is really pushing for them.
"I think Baily [Hersh] will be an amazing class president," Atkin said. "She seems very passionate about serving her class and has already begun to develop initiatives to better the student body. I'm excited to work with her, Victoria [Johnson] and the entire freshman class cabinet."
Not only does Hersh want to make the transition for freshmen easier through these changes, but she wants to unite all three campuses through fundraisers. She hopes to host a fundraising fashion show.
"[I want to] come up with a unique fundraiser that is going on, but not everyone knows about it. I'm currently looking into what we could do with that," she said.
One of Hersh's ideas involves the local Stella Clothing Boutique, which has been selling clothing at Quinnipiac for more than 15 years, donating products and having random students model them on the runway.
Fellow candidates have been supporting Hersh during her first few days as president.
Joseph Iasso, one of the freshman class representatives, congratulated her in a post to Class of 2019 Facebook group. It read: "Big congrats to our new Class President, Baily Hersh, the first female freshman class president in QU history! You have to admit, that's pretty awesome. I look forward to working with her and all the newly elected officers."
Iasso said he is excited for what is in store for the upcoming year.
"I am very happy for Baily [Hersh] and I think she will serve the class of 2019 very well in her new role," he said. "I look forward to working with her this year as a class representative. The class of 2019 cabinet is full of passionate leaders and I know we will do great things this year."
In addition to her new addition as class president, Hersh is also a member of the Criminal Justice Club and is on the Residence Hall Council for Troup Hall, Larson Hall and Perlroth Hall.
On top of that, Hersh is a founding member of Quinnipiac's newest sorority chapter, Gamma Phi Beta.
"When I was running [for president], I asked [Gamma Phi Beta] who their employer was for their posters," she said. "I am a very social person and we started talking and they explained how their motto is 'build strong girls' and it really inspired me. They help women and I am the first female freshman president and it is funny how it all lined up."
Hersh said her feminist views come from her mom.
"I was not confident and I didn't believe in myself," Hersh said. "Private school changed my views and my mom made a huge impact because she worked to become a superintendent and she helped me grow and become my own person and find my way; without her, I wouldn't be as strong."
Despite her involvement in Gamma Phi Beta and SGA, Hersh is not intimidated by the work load ahead of her.
"Yes, I am worried," she said. "I am definitely stressed about what the future might bring. However, I know that I have to figure out how to manage my time wisely and get through it because the end result will be positive, I just have to get there."