Rugby coach faces alma mater in historic game
Walking onto Lakeside Field in Charleston, Ill. on Sunday was a surreal feeling for Becky Carlson.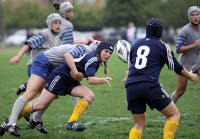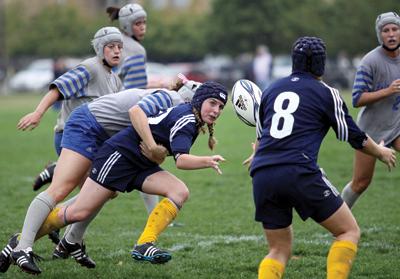 It wasn't the fact she was coaching against her alma mater, Eastern Illinois University. It was that she made history to get to that point.
Carlson, Quinnipiac's women's rugby head coach, made NCAA history when she led the Bobcats onto the field in the first-ever Division I women's rugby matchup.
"Everyone at that game understood the historic significance of it," Carlson said. "It's a once-in-a-lifetime experience for the team and for the coaching staff."
Carlson played rugby for the Panthers from 2000 to 2003, and served as assistant coach from 2004 to 2006.
Carlson saw plenty of familiar faces on Sunday, from former teammates, to alumni and even her former coach and current EIU coach Frank Graziano.
"The guy has taught me the game from the ground up," Carlson said.
Carlson said she styled some of the team's playbook from what she learned from Graziano, but made a lot of adjustments to make it more original.
"Our style is a lot like EIU's," Carlson said. "He taught me everything I know about rugby. It was like playing a mirror."
Before the team traveled more than 950 miles to Illinois, Carlson prepared her team for the pre-game ceremony, which included music, running onto the field for an introduction and the singing of the national anthem, which Carlson said was the most touching part of the ceremony.
"It was breaking me up a little bit when I was listening to the national anthem because I remember being a player and my very last game that I played for Eastern," Carlson said with a smile. "[Assistant] coach [Michelle] Reed (who also played at EIU) and I are listening to the national anthem and we're both coaching the program that's coaching the first NCAA game. It was pretty surreal."
Carlson said she has drilled into her players the mantra that no matter how the season turns out, it is all about history.
"They understood it, they were fired up for it," Carlson said. "Right before the game, we told them how proud we were and basically said that you're standing on the field, and by standing on the field you're making history. Not a whole lot of people can say they've made history just by showing up."
Despite the 24-0 loss on Sunday, Carlson said she and the team were in awe of one thing. The Bobcats held the Panthers, a team that outscored their opponents 278-0 in a four-game stretch last season, scoreless through the game's first 30 minutes.
"That hasn't happened in many, many years," Carlson said of the Panthers, who have won 40 of their last 41 games dating back to 2007. EIU has scored more than 100 points on five different occasions since 2007.
Carlson has stayed in contact with Graziano over the years. When she went on the field, she said it was different not being on the home team.
"We were not used to being on the visitor's side," Carlson said. "We were always sitting on the home side and we always had the crowd cheering for the team that I was coaching and playing for."
Graziano and Carlson met before the game began, shook hands and embraced the history.
"He was psyched for the competition and he shook my hand before the game and said, 'We did it, didn't we?' I said, 'Yeah, we sure did.'"