Mikayla's mission
Leaving a town that you've been familiar with for 18 years, transitioning into living on your own for the first time and managing your time is something all college freshmen have to adjust to.
For Quinnipiac field hockey's freshman forward Makayla Adams, she's had no problems making her contributions be noticed right away.
[media-credit id=2200 align="alignright" width="300″]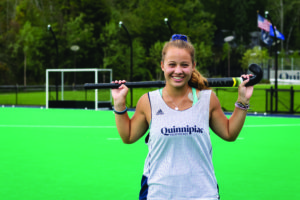 [/media-credit]Adams grew up in Sweet Valley, Pennsylvania, where she knew early on in her life that field hockey was going to be her future.
"My mom was a huge influence in my decision to play field hockey," Adams said. "She played field hockey at the University of Rhode Island and she was my coach and drove me to clinics and visits."
During her high school career, Adams helped her team win the district champions in 2016 and led her team in scoring that year. But, it's not always the stats that makes a coach want to recruit you. Quinnipiac head coach Becca Main, who's been at the helm for 25 years in Hamden, saw other factors that made her want to recruit Adams as a part of the program.
"We noticed her the first five minutes that she arrived at a clinic," Main said. "We didn't know who she actually was, but we walked over to her, made her the offer and within 10 days she was committed to play here. It's just her strength around the ball that makes her game special."
Adams isn't alone in her transition into the Quinnipiac program. She has 10 other freshman joining her, which can make things easier for a player as she has other people who are experiencing the same pressure. The team also has to have a strong atmosphere between upperclassmen and underclassmen, and that's something that Adams has been used to during her high school career.
"In high school, we had a really close hockey team," Adams said. "We were very close with the upperclassmen as they were able to push us to win and go to states every year."
With all the youth Main has added to the team, she followed up by expressing how pleased she was with the relationship between the seniors and freshmen and how that can drive her team success in the future.
"When you have leadership and guide the underclassmen to do their best that's true leadership," Main said. "Our model is different than other sports as if you're a senior you do more work than the freshmen, such as carrying cages, and I think that atmosphere allows the freshmen to thrive and to focus more on field hockey."
As for how Adams feels about the team atmosphere? It's not just developed her game as an athlete, but she's also picked up things on how to carry herself off the field.
"The girls on the team have really helped me," Adams said. "They have all been really supportive as they expect me to act as a senior and it's helped a lot in boosting my confidence and self-esteem."
On the field, Adams currently leads the team in points with 10 and is tied for the team lead in assists with two and goals with four. Putting up those numbers only 10 games into the season could be considered impressive for a freshman, but Main realizes that the atmosphere Adams played in before Quinnipiac helped her gain that sense of urgency for Division I play.
"She played high-level hockey in high school, I would call it one of the best areas to play hockey in central Pennsylvania," Main said. "She's very coachable and is able to pick things up so that's the biggest reason she plays as much as she does and she is able to get those opportunities to put the ball in the back of the net."
As for how the team looks, they are 4-6 overall, 1-2 in Big East play, 2-3 at home and 2-2 on the road. Come November, Main expects this team to have enough development time where they can be a tough opponent for anyone in the Big East.
"We have really extreme highs and really extreme lows," Main said. "We spent three years being vanilla through the middle, so I see this team being in Virginia competing for a Big East championship. That's our number one goal and what were focused on."
Adams followed up by discussing how the increase in exposure the team has received could impact their spot come November.
"We just moved up to the 29th spot in the nation which is a huge deal for us, and we're just working hard in practice everyday just to get to the Big East tournament."
A coach wants that player who is not afraid of the big moment and can score or make an impact in the game when it matters the most. Despite it just being 10 games, Main sees Adams as that person and knows that the traits she brings on and off the field makes her even more dangerous down the stretch.
"Adams is the most humble and modest person ever," Main said. "She's really comfortable working off of others, with that skill set and being able to make other people shine it's a wonder that she's turned into such a scorer for us. She's such a joy and she's put herself in a position with hard work that she could help us win games that we are not used to winning.
Although this team might not have the most attention on campus, Adams' play is just an example of how hard this team is willing to work to become one of the most prominent sports at Quinnipiac.
With the full support of the Quinnipiac community, Adams could score her way into getting the Bobcats their first Big East championship.