Quinnipiac women's ice hockey rolls past Guelph in exhibition game
[media-credit id=2200 align="alignright" width="300″]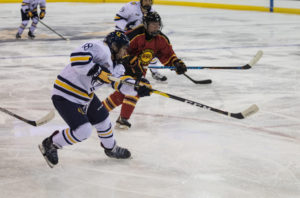 [/media-credit]The Quinnipiac women's ice hockey team defeated the University of Guelph, 4-1, in an exhibition game at the People's United Center in Hamden on Saturday.
The Bobcats dominated from start to finish, outshooting the Gryphons 29-3, and 15-2 in high danger scoring chances (shots taken from anywhere inside the faceoff dots).
Most of the action came in the first period, with sophomore forward Grace Markey opening up the scoring for the Bobcats just under four minutes into the game. Freshman defenseman Courtney Vorster followed with a goal of her own after cleaning up a juicy rebound with the backhand.
Quinnipiac took a 3-1 lead into the second period after senior captain Melissa Samoskevich scored her first in a two-goal performance. She tallied on the other late in the third period to secure the victory for the Bobcats.
Head coach Cassandra Turner spoke after the game and said she was pleased with the team's performance.
"We're happy with where we are," Turner said. "We're excited about some depth in our lineup at every position. Our new players did some really good things today, and our veterans the same."
Even though the Bobcats allowed just three shots on goal, Turner says there is still room for improvement.
"Our expectations defensively are really high. We had a number of opportunities where we could have held them from getting the puck over the red line. Our goal against was just like that."  
[media-credit id=2200 align="alignright" width="300″]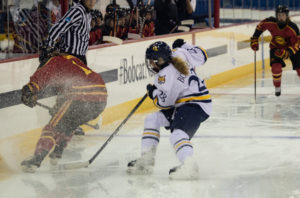 [/media-credit]Samoskevich also discussed the defensive effort in the postgame press conference.
"We try to limit their shots as much as we can, and I think for a first game we did pretty well," Samoskevich said.
The Bobcats were 0-for-4 on the power play in the contest, but Samoskevich is confident that those opportunities will turn into goals.
Quinnipiac went 16-18-4 in the 2017-18 season, but junior defenseman Kati Tabin is optimistic about the season ahead.
"I think that everyone's bought in early, and the biggest thing about Quinnipiac hockey is buying in," Tabin said.
The Bobcats will begin regular season play at home on Friday, Sept. 28 in an out-of-conference showdown with No. 7 Ohio State.