Bringing back the Bobcat
My first weekend at Quinnipiac freshman year is something I hold near and dear to my heart.
Those who peaked in high school dread leaving their posse of friends and everything they've ever known behind, while others anxiously count down the days to escape the boundaries of teen years and dive head first into 'adulthood' and 'surviving on their own.'
I was neither of these.
I liked my comfortable life and the normalcy I had developed growing up in the same place for 18 years. Yet, the prospect of beginning again with new people in a new place didn't seem like something all that bad.
[media-credit id=2242 align="alignright" width="300″]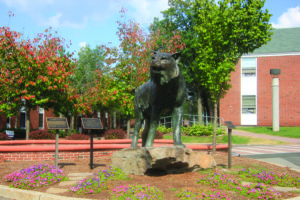 [/media-credit]The great thing about college is everyone comes in the same way. You may have a few friends from your hometown to wave to on the Quad or even a sibling to share your small and overly heated dorm with, but, for the most part, everyone comes in alone.
And there lies the purpose of the Bobcat.
No matter your major, your building, where you're from or if you say pork roll or taylor ham, all of the freshmen come together for one weekend as the majority and only students on campus, at the Bobcat statue.
You may have started the night at Bingo or waited awkwardly attempting to start up a conversation with the random people you'll live with for the next nine months, but at some point, one sets the pace and others follow suit until it's just happening.
For one weekend, the shy and the outgoing intermingle as everyone puts forth the effort, expressing the intense desire to make friends and finally belong. As cheesy as it may sound, the tradition of the Bobcat has lived on for years, bringing people together from generation to generation in developing both fleeting and lasting relationships.
From a family friend I had known that experienced the magic during her first year back in 2010 up to my own anticipation that first week only a few short years ago, the Bobcat was simply a rite of passage for incoming freshmen that began the foundation for everything else to come.
Until now.
As I sat in my humble dorm room last year, popping popcorn and setting my seat up next to the window facing Bobcat Way, I waited and waited for students to gather around. As time ticked past, I grew more and more frustrated with the lack of attendance that I quite literally got up and began grabbing freshmen and pulling them to the giant statue, yelling at them to mingle and be friends.
Myself and my friends who I met at that exact spot a year before expressed this utter disbelief that the first nights on campus, students were choosing to crowd the Hogan parking lot to escape their new home for parties and places they had no connection to yet.
For days after, sophomores, juniors and seniors alike all discussed the failure of the freshmen and what it could possibly mean for classes to come.
How are new students to make any friends? Why are the freshmen involving themselves in upperclassman activities? Is this the end of the Bobcat?
A year later, on a separate campus, I again waited and questioned, hoping the Class of 2022 would redeem their predecessors. And again, I watched the tradition slip right through their fingers.
Although a gathering of sweaty freshman at a stone statue may seem meaningless to someone on first glance, the purpose behind the events that take place the first weekend a freshmen spends at Quinnipiac is so much more. College is where people are reborn and in that one weekend, students of all kinds are given the opportunity to shape the person they want to be for the next four years.
In every person you add on social media, every connection you make to someone in your major or someone living down the hall, you are not only creating bonds with people you'll be able to recognize on the Quad or waiting in front of you on line in the cafe, but people that could quite literally change your life.
The graduating class of 2021 and 2022, the two biggest classes Quinnipiac has ever seen, are missing that connection.
The school can organize as many group activities as they please titled mandatory to force students to come together, but the free willed nature of students on their own time, escaping the brick walls of their dorms and the boundaries that once restricted them at home, is something that can only be replicated by will.
The desire to simply interact in an age of disconnect needs to be revived. And it starts with the Bobcat.
As a junior, I only have one more year of waiting. I hope that in that year, the incoming freshmen will renew the tradition that brings students together in school spirit, school pride and a sense of belonging that no organized activity ever could.
I will forever have the Bobcat to thank for giving me some of my best friends, not just on campus, but people I know will be a part of my life for years to come. My only hope is that those who missed this opportunity will recognize their loss and encourage the bonds of those that follow to fill the shoes they left behind in bringing life back to the Bobcat.