Quinnipiac baseball drops series to Iona after 9-4 loss
[media-credit id=2200 align="alignright" width="300″]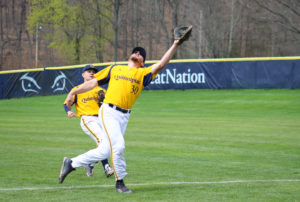 [/media-credit]They say offense wins games, but defense wins championships. Well, the Quinnipiac baseball team's defense certainly did not help on Sunday, as it fell to the Iona Gaels 9-4.
Four errors for the Bobcats allowed Iona to snap Quinnipiac's four-series win streak, after the two split a doubleheader on Saturday.
"Mistakes happen," Quinnipiac head coach John Delaney said. "The difference is we have to make adjustments to be better in the field."
The scoring started on an errant throw by freshman infielder Ian Ostberg in the second inning that brought in Iona's first run. But senior infielder Ben Gibson homered to tie the game back up in the bottom half of the inning.  
In the fourth, another error by Ostberg on the throw to first brought in another run. Junior outfielder Andre Marrero then bobbled freshman catcher's Sam Punzi's single, which caused another runner to score, giving the Gaels a 3-1 lead after the 4th.
"[Ostberg] was just rushing himself a little bit," Delaney said in regards to Ostberg's botched throw.
Punzi then did it again for the Gaels, knocking in two runners on a single in the 5th inning. That chased junior starter Tyler Poulin out of the game, as he was replaced by freshman Arthur Correira. He then proceeded to give up a single to graduate infielder Tyler Bruno as he ripped one into left field. Marrero again misplayed the ball and it went through his legs, bringing in two runs. Senior infielder Sean Scales followed that with an RBI single and Iona took an 8-1 lead out of the 6th.
"Two balls took bad hops," Delaney said. "I think the last one, [Marrero] just took his eyes off a little bit so when it took that bad hop, it went over his glove. I think that's the first two times that's happened that it happens in the same game, two big opportunities."
Quinnipiac did respond in the 7th with two solo home runs, as sophomore infielder Evan Vulgamore hit his seventh home run, followed quickly by Ben Gibson, whose team-leading 11th of the year sailed off the scoreboard and cut the lead to 8-3.
"Going into today, I just went and swung a little bit, just trying to see balls through," Gibson said. "And it worked out."
Punzi added another RBI in the 9th, bringing his total to three on the day and extending the Iona lead. Punzi's three RBI day brought his season total to 14.
Despite a Julius Saporito homer in the 9th, the Bobcats' comeback would not prevail as it fell 9-4.
[media-credit id=2200 align="alignright" width="300″]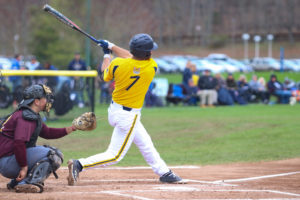 [/media-credit]"Our hits happened to be big hits where they were home runs," Delaney said. "The difference was we didn't have the offense going with guys on base to make those home runs productive. The offense wasn't working on all cylinders and a lot of home runs in the past have been big two-run, three-run homers. These happened to be solos which didn't help our cause."
With three MAAC series' remaining in the year, Quinnipiac still holds the top spot in the MAAC standings. But Delaney knows changes need to be made offensively.  
"We have got to be better with our at-bats," Delaney said. "Our approaches weren't very good, they gave us some pitches to hit, but we weren't aggressive on those pitches."
Looking ahead, the Bobcats have matchups against Niagara, Marist and Rider, and the team will look back on this week and do some reflection, according to Gibson.
"The mindset is to learn from our mistakes, from our errors and everything," Gibson said. "Fix it during practice and come out with the mentality to run over Niagara. We have to wipe it, learn from it and be better."
The Bobcats next game will be on Wednesday, May 2 at 3:30 p.m. against Central Connecticut State University in a non-conference matchup in Hamden.