Pet policy: the exceptions and the allowances
[media-credit id=2200 align="alignright" width="300″]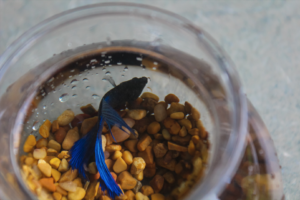 [/media-credit]Living on a college campus can be difficult for some students. No longer residing at home, students may feel homesick about many things: their bed, family meals – and perhaps most of all – their pets.
However, while animals can be a great companion, the university prohibits pets from living with a student inside its residence halls in appliance to its residential life policy. The only exception to this policy is that students are able to bring fish and service and emotional support animals to live with them on campus.
"The residence halls are communities, so everyone's well-being is considered. One person's support may be another person's fear or allergy," Director of Student Accessibility Matthew Cooper said in a statement.
Several students don't find a problem with the pet policy, including senior health science studies major MacKenzie Keenan.
"I would say for the most part (the pet policy's) kind of fair. I think having an animal is a big responsibility, not only for the person, but for the safety of the animal," Keenan said. "I have a dog at home that I would love to take to school with me, but I know that if I came here, I wouldn't be able to treat him the way he deserves to be treated."
Though the policy seems fair to Keenan, she said that she understands if other people might have different thoughts about it.
Sophomore journalism major Joseph D'Albero finds that the policy might be a little too strict.
"I understand why they put the policy in place, but I think they can just take care of the pets like clean up after them," D'Albero said. "I just think if you do have a pet on campus you're with roommates that agree with that and that they're comfortable with that."
The university's policy allows fish to live on campus in a tank no larger than 10 gallons because fish are unable to escape their containment whereas other small animals like hamsters or lizards are more likely to venture outside their containment, thus creating opportunity for conflict with community members or harm to the animal.
As for service and emotional support animals, the policy to allow them on campus falls under the Fair Housing Act and the ADA (Americans with Disabilities Act).
The Fair Housing Act supports emotional support animals and the ADA supports service animals which allows dogs and miniature horses to help students in need of assistance.
The eligibility to have a service animal would be if a student provides proof that they need assistance with tasks at the university that he or she simply cannot complete without a service animal, such as if the student was dealing with blindness, according to Cooper.
Those who are interested in having a service or emotional support animal on campus must first contact the office of student accessibility, according to Director of Residential Life Mark DeVilbiss.
"(Students) must provide medical documentation showing the need for the animal and that is evaluated by the office of student accessibility staff members," DeVilbiss said. "Then if approved, then their office contacts (the Office of Residential Life) and we meet the accommodation."
Once the student has met with the Office of Residential Life, they will then discuss expectations around the animal's presence with DeVilbiss and sign a formal agreement.
"We care that the animal is healthy when they get here for example, so they have to provide some documentation about that so a lot of things are indefinite," DeVilbiss said.
The university has no intention of revisiting the pet policy and making any alterations to it, according to Cooper.
The pet policy has been in place for as long as 10 years, according to DeVilbiss, and he said the university is always willing to help out those who feel the need to require an animal for their personal accommodations.
"We encourage students who believe they have a need or who have a need to use the process and reach out and we will be happy to assist and evaluate," DeVilbiss said.