DACA: The Quinnipiac perspective
[media-credit name="Chronicle File Photo" align="alignright" width="300″]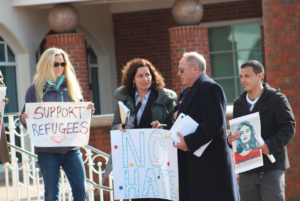 [/media-credit]The Trump administration announced on Sept. 5 that the Deferred Action for Childhood Arrivals (DACA) would end, but that Congress would be given a six-month period to possibly reinstate the policy.
DACA began June of 2012, President Barack Obama gave Congress the go-ahead to give work permits, social security numbers and federal benefits to approximately 800,000 illegal immigrants living in the United States between the ages of 15 and 36.
In President Trump's statement, he said that the Department of Homeland Security will begin a slow wind-down of DACA with minimal disruption.
"While new applications for work permits will not be accepted, all existing work permits will be honored until their date of expiration up to two full years from today," Trump said in a statement.
He noted that applications already being processed will continue to be processed. Renewal applications will also continue to be processed for people whose permits will expire before March 5, 2018, if they reapply before Oct. 5 of this year.
"I am not going to just cut DACA off, but rather provide a window of opportunity for Congress to finally act," Trump said.
Diane Ariza, vice president for academic affairs and chief diversity officer, made it clear that Quinnipiac does not have a large undocumented DACA population, but those students at the university are an important part of the Quinnipiac experience and our larger community. Unbeknownst to many, there are students at Quinnipiac who are residing in the United States with the help of DACA, in addition to many others who are fully undocumented.
"Now, I can say that we have a few students that have been very open about (being undocumented), and so we have had students who have graduated from our university that were back in the day, not part of DACA," Ariza said.
Quinnipiac alumnae Maria Praeli graduated in 2016 with a degree in political science. She moved to Connecticut with her family when she was 5 years old. Praeli has lived in America for 19 years and considers this country her home.
Praeli grew up just like any other American child. She played the clarinet in middle school and was on the basketball team in high school. She said that she procrastinated on her assignments in college and wasn't always happy with the cafe food at Quinnipiac.
"It's challenging and difficult to feel American, but have your future in the hands of Congress," Praeli said. "It's draining to have to plan for a future where I could possibly be deported to a country I haven't been to in 19 years. Immigration is very controversial at times, and I just want to remind people that these are really human lives we're debating. That all I'm asking for is the opportunity to get in line to legalize and stay in the county I love and call home."
Praeli is now 24 years old and resides in Washington D.C. She works at FWD.us as an immigration policy associate. She said she spends a lot of time on Capitol Hill, talking to and educating members of congress on issues related to immigration.
"DACA allows me to have this job, and to work legally. Without DACA, I would not be able to continue working at FWD," Praeli said.
There are 800,000-plus DACA students across the country, Ariza said. The immigration community at Quinnipiac is small and administration doesn't know the exact numbers. She said that the exact numbers are unknown because if a student feels fearful about revealing that they are undocumented, then they stay hidden within the community.
"There is currently NO path to legalization," Praeli said. "Many times people ask 'You've been here for so many years, why haven't you legalized?' The answer is that there is no option or line for me to get in. That's what immigration reform would create–a line for the undocumented people to get in, apply, pass background checks and over the process of many, many years, be able to legalize. Believe me, if I could apply to just my status and legalize, I would do it in a heartbeat."
Ariza believes that DACA is so important because it provides opportunities for young people who deserve to be in America.
"School systems in general do not ask for your citizenship," she said. "What was happening years ago was that students were getting stopped after the graduation and they start to realize that not being naturalized, or not having residency in that particular state makes it a little more difficult in the type of government aid you can get."
In Trump's statement, he touches upon how the nation's capital has failed to provide higher wages and lower unemployment for American workers.
"Before we ask what is fair to illegal immigrants, we must also ask what is fair to American families, students, taxpayers and job seekers," Trump said.
Although Trump is emphasizing the importance of compassion for American lives, Ariza stresses that some of these immigrants are Americans as well and should not be overlooked.
"They are as American as you get because they grew up here. They weren't born here, but they grew up here," Ariza said. "Why would we not care to support young people that have given already and are more American than many? It's just that they haven't been legalized."
Ariza said that the rescinding of DACA is a human condition and that we, as people, should be more understanding and compassionate about it. She said DACA students are young adults who got stuck in the process without any stake in the decision.
"We should care because these are young adults that are going to be incredible scientists. They have all the talents," Ariza said. "They are contributing citizens. They are going to be incredible engineers, business people. They could be the future employee of my corporation, the future doctor, the future attorney. They have given a lot to this country already."