System overload?
[media-credit id=2139 align="alignright" width="300″]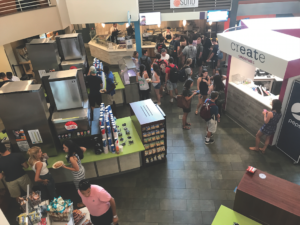 [/media-credit]It's no secret: In recent years, Quinnipiac has been admitting more students into the incoming freshman classes than in years prior. Naturally, this causes students to wonder: Is Quinnipiac becoming overpopulated?
According to Vice President for Admissions and Financial Aid Joan Isaac Mohr, students should not have anything to worry about.
"Our numbers are not quite finalized for this fall, but we have a bit more than 7,000 full-time undergraduates and about 2,900 graduate students," Mohr said. "Our undergraduate enrollment is about two to three percent higher than last year. Our goal has been to reach 7,000 undergraduates and then level off, so we're just about there."
So how large would the ideal freshman class be exactly? Mohr explained that the university does have a specific goal in mind.
"Our freshmen goal is about 1,900 students, which is the same goal we've had for the past three years," she said. "While our numbers are a bit higher at the moment, we have no students in triple rooms in housing, and only a few students that are still housed in the lounges. We're still identifying some spaces (for those students)."
Senior behavioral neuroscience major Nick Morisi said that while he feels there are too many students at Quinnipiac,cartier replica watches an easy solution to the problem exists.
"I think (Quinnipiac) is a little bit (overpopulated)," Morisi said. "I think (admissions) can make that number (of admitted students) a little lower. I think a good number (of students to admit) would be about 100 or 200 less (than currently admitted)."
To the contrary, freshman health science studies major Maria Peragallo does not see Quinnipiac as being overpopulated, and even believes that the university's small school feel works well for her.
"With the classes I have right now, I don't see it (being overpopulated)," Peragallo said. "(My classes are) pretty small, and I like that I can be one-on-one with my professors."
Mohr explained that spring semester enrollment for the university tends to be significantly less than enrollment for the fall semester, and should not be of any alarm to students.
"The spring semester enrollment is always 200 to 300 (students) fewer than the fall, due to those (students) graduating after the fall semester and some normal attrition from the fall to the spring," she said.
Mohr explained that any future growth at the university will be in the graduate programs rather than as an influx of freshman.
"Any moderate growth in the future will be in the graduate areas – our School of Medicine will likely increase from the current 360 (students) to closer to 500 (students) over time, and our online and some on ground graduate programs will grow a bit," Mohr said.
Freshman school of communications undeclared major Andrew Meyers explained that while he was visiting college campuses before making his final choice, it was ultimately Quinnipiac's size that made him feel comfortable.
"Visiting a couple of campuses across the country – mostly on the East Coast – Quinnipiac was one of the smaller schools I visited, so 1,900 (students in the freshman class) doesn't really seem like a big number to me," Meyers said.
However, despite his level of comfort with the campus population, Meyers understands how some would feel that the campus population is too large.
"Seeing how small the campus is, I can see where people would get that idea (that there are too many students here at Quinnipiac)," Meyers  said.
Mohr stated that the university's admissions department feels comfortable with the school's current population, and explained that the target number of admitted students will remain the same for next year.
"We're happy to have students from 30 states and 18 countries and our goal of 1,900 will remain the same for next year," she said. "Quinnipiac students, staff and faculty are a great boost to the Hamden and North Haven communities in many ways."
replica watches www.thewatchmenshop.com