Spreading the Word to End the Word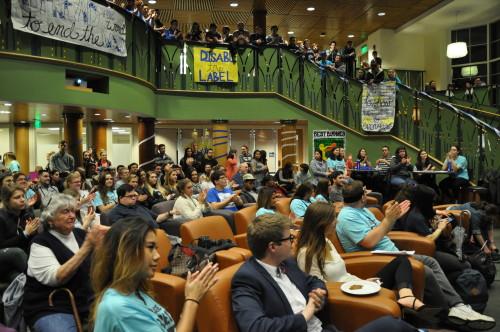 Olivia Higgins
March 9, 2017
On Wednesday March 1st, The Best Buddies organization held its national annual event, Spread the Word.
The Spread the Word event has been held for six years on Quinnipiac's campus, and the Best Buddies organization has been on campus since 1995. This event is held across the nation to promote ending the use of the word "retard" in a derogatory context.
By definition, the word "retard" refers to a mentally handicapped person, but over time it has evolved and is now equated to calling something or someone stupid.
One of the biggest events of the year is the Spread the Word event, which falls on the first Wednesday of every March. It is an opportunity for buddies, their friends and families to come together with students and faculty members to spread awareness of the "r-word" and promote its negative effect on those with disabilities.
Onlookers can watch as buddy pairs go on stage to perform, show videos and give speeches about why they want to end the use of the "r-word," with hopes of inspiring others to "spread the word to end the word."
Alyssa Jacavone, a senior health sciences studies major, is the current president of Quinnipiac's Best Buddies chapter and the Spread the Word event has been an important part of her time with the club.
"Spread the Word to End the Word is a very important campaign because the word 'retard' is used now in a derogatory sense, and it is offensive to those with intellectual and developmental disabilities, as well as their family members and their friends," Jacavone said.
Jacavone expresses how hurtful the use of the 'r-word' is, especially to all the buddy pairs in the Best Buddies club.
"It's really hurtful to hear in conversation, and people don't even realize what they're saying. Since it has such a derogatory use, we want to try to put an end to it and realize that there is ability in everyone and that we should be promoting acceptance and inclusion for those of all abilities," Jacavone said.
Jacavone started Best Buddies in high school and continued to be a part of the organization when she came to Quinnipiac, where she was paired with her buddy Sammy.
"I think Best Buddies is a phenomenal organization that is so important because individuals with intellectual and developmental disabilities… it's not always easy for them to find a friend and this organization makes it so that they can do things anyone else can do, hang out with friends, talk so they're not isolated at home," Jacavone said.
Meredith Ramsey, a sophomore diagnostic medical sonography major, attended the event and was moved by what she saw.
"I thought the event was very informative. The buddies speaking out about ending the word was the most moving part," Ramsey said. "I attended because when I was in high school, I was a volunteer for the Special Olympics, and it was one of the most incredible experiences I've ever had. It is important to me that (these individuals) are seen for their abilities and not their disabilities."
This year, the organization was accepting donations in exchange for "Spread the Word" wristbands, and the proceeds would go toward the upcoming half marathon event that the chapter was participating in.
"The Spread the Word event is mostly used to promote awareness, this year we did accept donations. If you were to take a 'Spread the Word' bracelet, those donations will be going to our half marathon team," Jacavone said. "We have a buddy pair relay where we will be each taking on a leg of the half marathon which is really cool, we did it last year and looking forward to doing it again."
Erin Schirra, a junior in the entry level master's physician assistant program and the chapter's public relations chairperson, shows great enthusiasm for the event even though she is studying abroad in Australia and will be unable to attend this year.
"At the end of the day, people substitute the r-word for words like 'stupid,' 'annoying' and 'weird.' When this happens, it offends others, as it equates the r-word to whatever word it replaces," Schirra said. "People with intellectual disabilities aren't stupid or annoying or weird, they're just people! Best Buddies is an organization to promote inclusion and friendship between those with intellectual and developmental disabilities and other college students."
The Best Buddies organization has been partnering with the brothers of Pi Kappa Phi fraternity to put on the Spread the Word event and make it a success.
"We partner with (Pi Kappa Phi) every year to make this night huge, and to make a statement to the university community that our inclusion and our friendships will do everything to overpower the hurtful language that our society has normalized," Schirra said.
Nate O'Shea, a sophomore management major, is a proud member of the Best Buddies club and was excited at how well the Spread the Word event went this year.
"As a member of Best Buddies, it meant a lot to have such a great turn out and have everyone there to hear and see exactly why the use of the 'r-word' needs to be stopped. I personally do not think the 'r-word' has any place in society, and it is a shame it is used as derogatory slang to hurt people," O'Shea said. "I think most everyone knows deep down it is wrong to say, but after joining Best Buddies, I have been able to truly experience why the 'r-word' does not represent our buddies in any way whatsoever."