Martin making strides in sophomore season with men's ice hockey
It's March 18, 2016 and No. 1 nationally-ranked Quinnipiac is playing Dartmouth in the ECAC Hockey Championship Semifinals.
[media-credit id=2148 align="alignright" width="300″]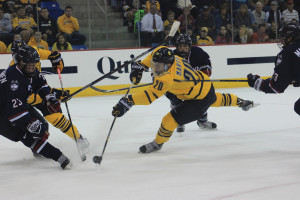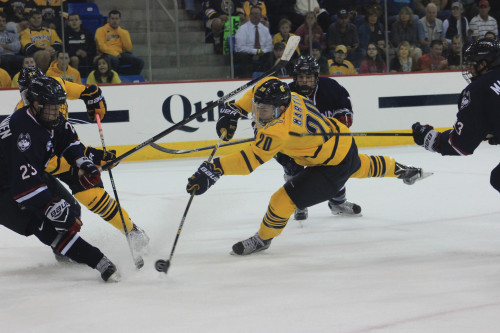 [/media-credit]
While this is the Bobcats' 39th game of the season, it's only freshman Craig Martin's 15th.
Quinnipiac goes up 2-0 early in the game and is looking for an insurance marker to solidify the lead. Five minutes into the second period, the puck is shot off a pad, finds its way onto Martin's stick and then is suddenly in the back of the net.
The timely goal was Martin's first of his collegiate career.
"It was nice to get that one," Martin said. "Being a guy that was in and out of the lineup, you want to contribute as much as possible when you get an opportunity, so I think that goal was big for my confidence finishing off the season."
It was only a season ago when Martin was unable to find a regular spot on a stacked, record-setting Quinnipiac Bobcats team.
Martin was naturally overshadowed by veteran offensive juggernauts, like Sam Anas and Travis St. Denis, and stellar situational forwards, like former-captain Soren Jonzzon, in his freshman season.
"He was in a tough spot last year where we were just really good," Quinnipiac head coach Rand Pecknold said. "He was kind of the 13th forward, and he was getting in and out of the lineup a little bit."
[media-credit id=2148 align="alignright" width="300″]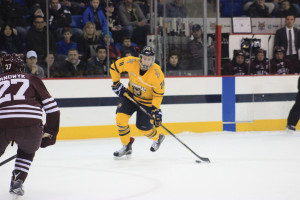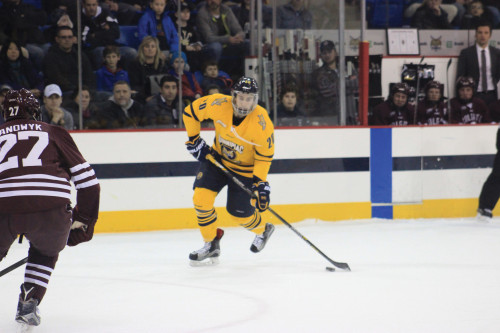 [/media-credit]
Now, more than halfway through his sophomore year, Martin is on pace to play in every game this season, while leading all forwards in points with 21 in 29 games.
But the real success began away from the spotlight.
"Working with Coach B (Brijesh Patel) last summer was huge for me," Martin said. "I worked hard to get faster and stronger and it's really helped in developing my game on the ice."
The training has translated into productive on-ice play this season.
Of his 21 points, Martin has scored 8 goals and tallied 13 assists while tied for the lead among all Bobcat forwards in plus-minus (+3). Within the ECAC, he is tied at fifth among all conference forwards in power play goals this season (5).
Martin's emergence as a top-six forward for Quinnipiac may have come as a surprise to some, but for others, it was simply a matter of hard work and time.
"I give him credit. He worked his tail off in practice and always had a great attitude," Pecknold said. "He's getting his reward this year."
While the perk of scoring on a relatively consistent basis is nice, when that isn't working for Martin, he makes his on-ice presence felt in other ways. He sets the tone with a combination of in-your-face style of play, dependable defensive abilities and opportune offense.
Although he wears no captain's letter on his chest, he is already a leader among his teammates.
[media-credit name="Shawn Urban" align="alignright" width="300″]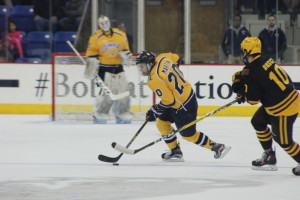 [/media-credit]
"I'm not a huge vocal guy," Martin said. "I more lead by example and just get to work."
That work has resulted in a major role in a variety of situations on the ice this season. Martin is a solidified top-six forward, plays both ends of special teams and is even tied-second on the team in blocked shots among forwards.
His contributions have been extensive for the Bobcats.
"He's having a great year, and he's doing everything," Pecknold said. "I know he's scoring, but he's doing a great job on the power play, great job on the penalty kill, he's been really good defensively playing with Timmy [Clifton] all year. [We're] really happy with his development."
In his first full collegiate season, Martin is centered by senior assistant captain Tim Clifton on a regular basis. The combination has been a plus for the developing sophomore, as Martin, a speedy winger with a knack for finding open areas on the ice, works well with Clifton, a tenacious veteran with offensive awareness.
"I love playing with Timmy [Clifton], he's awesome," Martin said. "He wins draws, he battles, he competes in the corners and you just expect him to win the puck. If you're out of position, he's always there to cover for you and it's nice to know someone is going to back you up all the time."
In addition to 5-on-5 play, the two play opposite of each other on the power play.
While it is Clifton who causes chaos in front and supports the left wing, Martin plays the role of a finishing shooter along the right half-wall.
"I haven't really played that spot up until this year and took a little work to get good at it, but it helps out with the guys we have," Martin said. "We communicate well, move the puck well and we've been getting good looks lately."
[media-credit id=2148 align="alignright" width="300″]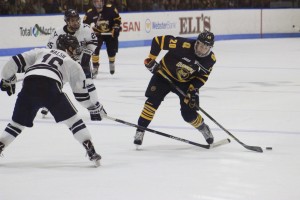 [/media-credit]
The pair has combined for 12 power play points this season playing on the same unit and Martin has developed a bit of a sweet spot.
His one-timer from the top of the circle has found twine on multiple occasions, including an overtime game-winner on the road against Maine in mid-October.
"I don't really try to think about it," Martin said. "I just go out there, play my game and do the little things to help the team win."
The transition from a role player to a go-to guy, not only this season, but moving forward as well, has come in a flash for Martin. With the core group of Anas, St. Denis and Devon Toews gone, Tim and Connor Clifton among the graduating class and potential early departure of key players, a new wave of Quinnipiac hockey has begun.
And after a season essentially lost for Martin in 2015-16, he is wasting no time in 2017 to reinforce a breakout season.
"This year, he's been given the opportunity, and all of his hard work pays off," Tim Clifton said.
"He got his opportunity and now he's running with it."