Sophomore slugger
Becoming an impact player for Quinnipiac baseball didn't take long for sophomore first baseman Ben Gibson.
A two-sport athlete at St. Pope John II High School in Hyannis, Massachusetts, Gibson was a part of the Lions' varsity basketball and baseball teams' success, but when Quinnipiac came calling for baseball, he knew his true passion.
[media-credit name="Justin Cait/Chronicle" align="alignright" width="476″]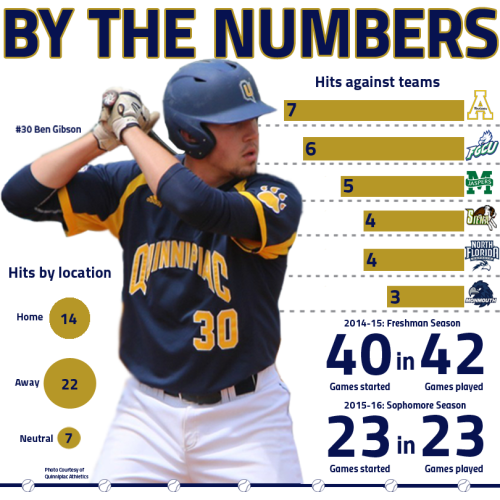 [/media-credit]
"High school, I was a four-year starter on varsity," Gibson said. "I do miss basketball, but baseball is the No. 1 love."
Along with a love for the game, Gibson's size has helped him become a slugger. Utilizing his large 6-foot-5, 225 pound frame, Gibson has established himself as one of the premiere power hitters not only on the Bobcats, but in the Metro Atlantic Athletic Conference.
"He's got probably the best power in the league and some of the best power in New England to tell you the truth," Quinnipiac baseball head coach John Delaney said. "When I recruited him it was an ability that not only can he play at the Division I level, but as a chance to play at the next level."
Gibson currently leads the Bobcats in doubles (7), home runs (4), slugging percentage (.464), and total bases (39) just 25 games into the season.
Although his bat may be the first thing that catches the eye, the defensive aspect of his game is something that Gibson takes great pride in, as well his overall progression in the field. A natural first baseman, starting at the opposite end of the diamond at third to begin his collegiate career was a transition that helped him grow defensively.
"Last year, playing third base was my first time since I was 12 years-old," Gibson said. "Coming from first base in high school, to becoming a third baseman in college, and then going back to first again, my defensive skills have definitely improved by switching."
Gibson noted his evolution as a defensive presence didn't happen overnight.
"The transition came a lot from working with Coach [Delaney] in the infield last year," Gibson added. "Playing some third, and moving positions helped my defensive skills a lot."
While improvements in the defensive end added important components to Gibson's game, stepping up to the batter's box multiple times in a game has to never seemed to phase the sophomore slugger.
"He's one of the kids that really understands the concept of when an at-bat happens, you're upset, but there's another play in the field that you've got to make that will help the team win," Delaney said.
While Gibson leads the team in three hitting categories, and stands in the top five in all other major hitting categories, he simultaneously has accumulated the most strikeouts of any Bobcat so far this season.
"One of the biggest things we talk about is a kid that goes 0-for-3 with three punch outs and at his fourth at bat, in a big situation, he comes up and gets that single, moves a guy in and sets us up to win," Delaney added. "That becomes the biggest at-bat of the day and I prefer a kid that can take an approach like that than a kid that goes 3-for-3 and we lose at the end of the day."
The ability to shake off a negative at-bat and come back even stronger is something Gibson recognizes, and he takes pride in helping the team.
"Not thinking about the previous at-bat is definitely a key," Gibson said. "Having a clear mind and staying locked in the entire game is definitely huge."
With  raw talent and abilities on the field, lapses in other areas off the field are common with some players. However, in Gibson's case, it has been quite the contrary.
"In my eyes, he's a kid that is going to be one of the leaders moving forward," Delaney said. "He's showed leadership skills this year even as a sophomore."
The leadership skill set has been apparent since his arrival at Quinnipiac.
"We have a best teammate award that is given out to a kid that will lay it out on the line and do whatever it takes to help the team win," Delaney said. "Ben was one of two kids that got votes and he was a freshman last year. To have a freshman get voted for awards like that is a pretty big honor."
On a team where the majority of players are upperclassmen, preparing for the future is always taken into consideration, even in midst of the regular season.
"He's a leader right now," junior captain Matthew Batten said. "He definitely has the strong voice, so this program will definitely be in great hands with [Gibson]."
Delaney describes Gibson's as a natural leader, due to several key qualities that other players naturally gravitate towards.
As the latter portion of the season nears, The Bobcats currently stand at 7-17 in overall play. Getting back to .500 and beyond will take hard work, but Gibson believes in his team's abilities down the road.
"We've had a few injuries on the team that has made it a little bit harder on our team, so some other younger guys have had to step up," Gibson said. "Team chemistry is a huge part in our success for the rest of the year because we all need to work together from our grad-students to our freshman."
Working toward a winning record may take time, but the results don't alter the team's chemistry.
"We're family on and off the field," Gibson said. "No matter what."
[twitter-follow username="justin_cait" scheme="dark"]