A puck stoppage at High Point Solutions Arena is usually a time for players to catch their breath while the pep band plays a song. However, Quinnipiac senior goaltender Michael Garteig seizes the break in the game as a time to complete a ritual.
When the referee blows a whistle, Garteig pulls off his mask and immediately reaches for the Gatorade bottle on top of his net. Before he quenches his thirst, however, the senior shoots water into the air. This seemingly negligible habit is something that reflects how Garteig got to where he is today.
"It's just a focus thing. I don't just squirt it. There's a theory behind the madness, I promise," Garteig said. "I spray the water, I find one drop and I watch it fall to the ice. That's what I do. If I can't find a drop, then I'm not engaged in the game. That's my way of thinking."
[media-credit name="Chronicle File Photo" align="alignright" width="300″]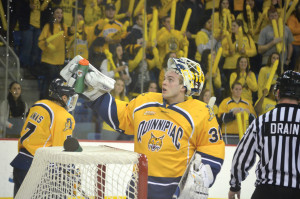 [/media-credit]
Quinnipiac head coach Rand Pecknold recognizes Garteig's focus.
"He's got a great work ethic and he always has a plan in place of what he needs to work on," Pecknold said. "I give him a lot of credit because he is organized and he attacks what he needs to get better at. He is being rewarded for it now."
Perhaps Garteig's greatest reward came on Friday, Dec. 4, when Quinnipiac went to Ingalls Rink to play the No. 10 Yale Bulldogs. Garteig entered the game tied with J.C. Wells ('01) and Jamie Holden ('05) atop Quinnipiac's all-time wins list with 59. Garteig and the Bobcats went on to shutout the Bulldogs 3-0, with Garteig stopping all 22 shots he faced as he claimed the top spot on the all-time wins list.
Although his 60 wins go down as an individual achievement, Garteig believes that his record is a team accolade.
"Whatever the record may be or however many wins I may get, that is a reflection on the team or the program in general because that is four years of winning," Garteig said. "That's the way I look at it. I can't win games alone. I'm lucky to have awesome teammates that have been along here for the process and everything we do here is as a team and a family."
On Dec. 5, the night following the Yale game, Garteig would break another Quinnipiac record against Brown. With 2:53 in the third period, Garteig set the Quinnipiac record for longest stretch without giving up a goal. The Bobcats went on to beat the Bears 3-0 and Garteig recorded his third straight shutout.
Yet, Garteig has not always been a coveted talent in goal. In fact, he did not even want to be goalie when he started playing hockey. Garteig's brother, Ryan, started playing hockey before him. As the younger brother, he had to oblige Ryan and his friends.
"I wanted to be the guy who was scoring goals," Garteig said, "But if I wanted to play with [Ryan] and his friends, I had to be a goalie because I was three years younger."
Garteig did not consider playing goalie full-time until he was playing youth hockey. Even then, he wanted to score goals instead of stopping them but had to play some goalie because of the rotations his youth coach ran.
Garteig said it was a youth coach that took notice and saw the results every time it was his turn in goal.
"My coach was like, 'Hey, every time you play goalie, we do well. You should stay as goalie,'" Garteig recalled.
Garteig committed to playing goalie after that. He bought a set of pads and began trying out for teams throughout British Columbia.
"It's just crazy because I was maybe good for the area, but I never made any of the teams," Garteig said. "When we did team [British Columbia] I never made it. I never made regionals. They'd break it into regions in British Columbia and I'd never make that."
Just when he was on the brink of leaving the sport entirely, Garteig began bouncing around through teams in minor hockey and got a chance with a lower level team. He said that was when people started to take notice of him.
"I was pretty much ready to quit and then I got lucky," Garteig said. "I played Junior B and that's where things took off. I got lucky and started to get some attention from other teams."
Around this time, Garteig became interested in playing collegiate hockey. Before he jumped into the Division I level, he played in the British Columbia Hockey League. From 2008 to 2011, Garteig played 75 games for the Powell River Kings. After the 2011 season, Powell River traded him to the Penticton Vees, a "high-end organization" as he put it.
Another player who got traded to Penticton entering the 2011-2012 season was Travis St. Denis, one of Quinnipiac's current alternate captains who played from 2008 to 2011 with the Trail Smoke Eaters. Both Garteig and St. Denis had made their commitments to play for Quinnipiac before becoming teammates in Penticton. St. Denis said that their decision to go to Quinnipiac helped bring them together in Penticton.
"I think that was a big factor in us both going to Penticton together," St. Denis said. "We both got traded there the summer before the season started. The coach there kind of liked that we were going to the same school."
Garteig, St. Denis and the 2011-2012 Penticton Vees dominated not only the BCHL, but all of Canada. The team strung together a 42 game winning streak during the regular season before winning the BCHL, beating the Brooks Bandits for the Doyle Cup, and beating the Woodstock Slammers in the Royal Bank Cup to become national champions.
"It was a really cool year," Garteig said. "Any time you can win a championship is fun."
Garteig and St. Denis came to Quinnipiac the following summer to begin their freshman year. They both said that having one another eased the transition to a new school.
"I was pretty lucky to come in with [St. Denis]," Garteig said. "Obviously, both of us were familiar with each other in Penticton. So we came here together and we didn't really know anyone at the time, so it's nice to know each other and [there was] a little comfort there."
"It made it an easier transition, definitely," St. Denis said. "You know, hockey-wise and school-wise."
Garteig only made one appearance in the 2012-2013 season with the Bobcats. He spent most of the year on the bench behind senior goaltender Eric Hartzell as the team made it all the way to the Frozen Four in Pittsburgh before losing to Yale in the National Championship. Despite facing only 38 shots his entire freshman year, Garteig said he learned from Hartzell so that he would be ready to take over between the pipes.
"Being in a position where I wasn't playing in a lot of games frustrated me, kind of motivated me and pushed me," Garteig said. "I made sure I got better that year and when [Hartzell] left, I was ready to take over. I didn't want to waste an opportunity."
Garteig has been the starting goalie for the Bobcats ever since. In his sophomore season, he started all 40 games in net and finished the year with a 2.00 goals allowed average (GAA) and a .910 save percentage.
He followed that up by starting 36 games in his junior year. On Feb. 6, Garteig surpassed Eric Hartzell with his 11th career shutout in a win over Cornell. He also led the ECAC in wins (16), win percentage (.795) and GAA (1.62).
Over the past summer, Garteig improved his game by participating at the Bruins' summer development camp. This is not new to his summer regimen. He also went to the Canucks' camp after his sophomore season. Garteig said the training helped him stay motivated for his final year in Hamden.
"There were a lot of really good players there," Garteig said. "There were only three goalies so I got to see a lot of pucks. Anything you can do to motivate yourself for the following season, I guess you can look at it that way. It was a valuable experience to have."
Thus far during the 2015-2016 season, Garteig has gotten off to the best start of his career. Through 17 games, Garteig has a 1.17 GAA and a .952 save percentage. He has six shutouts on the season to bring him to 17 on his career.
On Dec. 2, the Hockey Commissioner's Association (HCA) named Garteig the NCAA Division I National Player of the Month for November. In a weekend where Quinnipiac only scored one goal, Garteig helped the Bobcats salvage two points by stopping 25 of 26 shots in a tie against Clarkson on Nov. 20 and shutting St. Lawrence out with a 36-save performance to salvage a tie the following night.
"[Garteig] has been huge," Quinnipiac captain Soren Jonzzon said. "He's a really calming player. There've been times on and off the ice where we are just not playing well and he's picked us up."
Garteig made it onto SportsCenter's Top 10 plays the night of the St. Lawrence game with a reaching stick save. He said he has yet to see the play on ESPN, but he recognized that it was nice to be on the positive end of the highlight countdown.
"The only other time I was on SportsCenter was on the Not Top 10," he said. "So it is better this one than that one. But it's cool. It's probably the nicest save I have ever made in my life."
Looking ahead, Garteig admitted he hopes to play professional hockey. However, while he finishes his final season in Hamden, he hopes to accomplish the goal that narrowly escaped the Bobcats his freshman season.
"For the time being, it has just been about enjoying the season," Garteig said. "It's my last crack at the can so I focus on nothing but winning and winning a championship with these guys here. If that happens, then everything will take care of itself."
 [twitter-follow username="MolesDontSki" scheme="dark"]