Men's ice hockey to participate in St. Baldrick's
The Quinnipiac University men's ice hockey team has once again teamed up with the St. Baldrick's Foundation in an effort to raise money toward children cancer research and to improve cancer awareness.
On Oct. 14, following the conclusion of its home game against Robert Morris at noon, all members of the team and coaching staff will shave their heads to conclude the fundraising event to benefit children's cancer research. The head shaving is set to take place at High Point Solutions Arena at TD Bank Sports Center on the York Hill campus.
[media-credit name="Photo courtesy Quinnipiac Athletics" align="aligncenter" width="300″]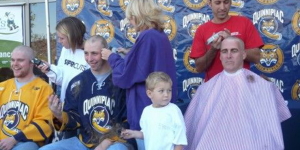 [/media-credit]
On Oct. 4, 2008 a total of 47 individuals at Quinnipiac participated in the "Blades and Shaves" event. Quinnipiac men's ice hockey head coach Rand Pecknold, along with student-athletes and fans at the university, helped to raise a sum close to $30,000 for St. Baldrick's that year, and they hope to encounter the same success this coming Sunday.
"We had a great event in 2008 and raised a lot of money for a great cause," Pecknold said. "It exceeded all of my expectations, and I hope we can do it again. I know that Quinnipiac's student-athletes and staff are dedicated enough to put the work in and our fans are always supportive. I'm confident in another successful benefit for a great cause."
For senior defenseman Mike Dalhuisen, this fundraiser is just one of the many that benefit cancer research, which he has been a part of in his four years at Quinnipiac. In November 2007, Dalhuisen's mother passed away after her battle with leukemia, and he understands how much these events can mean to a family.
"I just want to do my part in raising money for cancer so that I know in the future no family will have to go through what my family had to," Dalhuisen said. "When you literally have to watch one of your loved ones perish right in front of you, it's just awful. I'm glad that we are all, as a team, going to do this together."
A week before his mother passed about five years ago, Dalhuisen, born in Nymegen, Holland, formed a charity of his own called LIVEHockey. Inspired by the works of the foundation created by cyclist Lance Armstrong, Dalhuisen's LIVEHockey foundation has sold bracelets similar to those that LIVEStrong sells today. The bracelets, which Dalhuisen has been selling for the past five years, are similar to those from which he got the idea from, only they have a ribbon and two hockey sticks on the side.
Dalhuisen collects the money he raises from the bracelets and donates it to a local person or family who has been affected by cancer.
"I like the feeling of seeing directly where my money goes," he said. "I like handing it over to a person myself."
Freshman forward Soren Jonzzon has enjoyed his experience so far at Quinnipiac off the ice as well as on it, and has been impressed with the way everyone on his new team has come together to raise money for a good cause.
[media-credit name="Photo courtesy Quinnipaic Athletics" align="aligncenter" width="300″]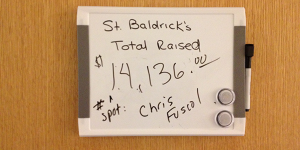 [/media-credit]
"It's really nice to see how all the guys have gotten into it, and stepped up and made an effort," Jonzzon said. "I know there are some guys who have raised huge quantities of money. The best part is that no one on the team has said a word to complain about shaving our heads. I think we are all looking forward to it."
Contrast to the views that Jonzzon has about shaving his head, Pecknold has a different view of getting his own head shaved.
"I do it and it takes a couple weeks before I look normal again," Pecknold joked. "It's a rough couple of weeks wearing hats, but it's for a great cause."
As the hockey team gears up for the new season that faces them, Pecknold manages to see the positive chemistry that can be achieved during a time like this for his team.
"There's no question that there is team bonding involved with this event," Pecknold said. "They're fundraising together. I think more of it comes when they all shave their heads and they're waiting for it to grow back. That's certainly not the reason we do this, we do it to raise money for cancer research and to promote cancer awareness, but it's a fun way for the guys to help keep people aware of the problems we face with cancer."
"It's just another thing we'll have in common," Jonzzon said. "It makes everyone feel like they are part of the group. Hopefully we can build off of that as we get into the season."
The upcoming season for the men's hockey team is one of great expectation. Quinnipiac was ranked No. 17 and No. 23 nationally by USA Hockey Magazine and USCHO respectively this past September, and moved up to No. 18 in USCHO's poll on Monday. The team also finished fourth in the ECAC Hockey preseason coaches' poll.
No matter a win, lose, or draw in their first home game on Saturday night, though, you can count on each member of the hockey team to show off their heads clean-shaved the next day.
"I haven't been bald since I was a baby," Dalhuisen joked. "I'm extremely scared and nervous. The last time I had no hair was when I was born. I don't know what I will look like, but it's for a good cause. It is what it is."