Captain Currie
The Quinnipiac's men's ice hockey team has selected junior defenseman Zack Currie as their captain for the 2012-13 season.
"Zack Currie is an outstanding choice to be our captain," head coach Rand Pecknold said. "His work ethic is exemplary and he has a true commitment to excellence."
Currie is the 27th captain in the history of the Quinnipiac men's ice hockey program, and its 12th in the program's Division I history.
"It's a new challenge for me," Currie said. "At this point, I'm just trying to learn the ways and do the best I can so far."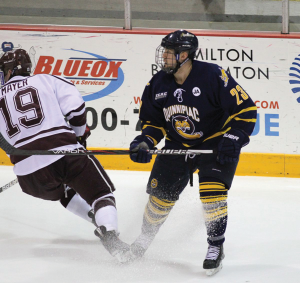 Currie is coming off his best season as a Bobcat, setting career-high numbers in goals (9) and points (18). His nine goals are fourth all-time for a defenseman in Quinnipiac history.
"Everybody has their own challenges and ways of working through things," Currie said. "I've just done everything I can to help the team. To move into this role is nice."
Currie was chosen to replace Scott Zurevinski as captain over several other candidates. While he has received much support from his teammates, he said the chemistry of the team allowed them to support whomever Pecknold chose as captain.
"Our team has been so close, no matter who it was, everybody would've been supportive of it," Currie said.
Zurevinski held the role as team captain for the previous two seasons, who tallied 44 points the last two seasons, with five goals and 14 assists his senior season. While Currie is a defenseman and is not likely to put up similar numbers to Zurevinski, he still acknowledges he has big shoes to fill.
"I think I'm just gonna keep that team together the way Zurvy did," Currie said. "I think that's incredibly important on the team; there's no difference between a freshman and a senior. Everybody just hangs out and does the exact same things. I think that was one of his strengths as a captain."
Off the ice, Currie is an athletic training major and holds a 3.74 cumulative grade-point average.
He's also been involved in several Positive Play programs, including visits to Green Acres Elementary School, as well as participating in several Quinnipiac ice hockey clinics.
"A lot of work and a lot of help from others have helped," Currie said. "I've had teachers and coaches make sacrifices. Each thing that comes across my plate, I just take care of it as it comes, and it's managed to work out so far."