Freshman Phenom
Matthew Peca has a bright future in store for him, both at Quinnipiac University and after graduation. The Tampa Bay Lightning selected Peca in the seventh round in the 2011 NHL draft.
Prior to the draft and his time at Quinnipiac, Peca was voted Central Canada Hockey League's Top Prospect.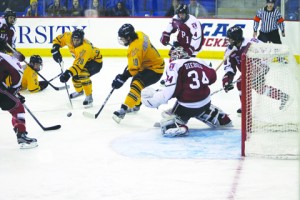 And lately he's shown why he's so highly touted.
Peca is currently tied for third in points on the team, with 13, tallying four goals and nine assists on the season and has came within one game of tying the freshman consecutive points record of 11 games. Ben Nelson set the record in 2005.
"This season I try not to put too many expectations on myself," Peca said. "I want to play the best I can and develop as much as I can as a player."
Even though Peca is one of the youngest players on the ice, it is not noticeable.
"The big thing I notice about the college game is the size and strength of the bigger and older players," Peca said. "I think it's obviously an adjustment, but again, I have older players playing with me so they help a lot and the team helps a lot in the adjustment."
Although Peca was drafted, he felt that going to college was more important for him at this time. He chose college to play hockey and receive a good education at the same time instead of jumping straight to the pros or even playing for a junior hockey team.
"I think the college route just seemed better for me," Peca said. "Obviously to get an education was a big part of the reason I came to play college hockey. I wanted a couple more years of hockey to play and to develop more."
Peca is the second Bobcat on this team to be drafted to the NHL. Kellen Jones was drafted by the Edmonton Oilers in 2009.
"We knew he was going to be good," head coach Rand Pecknold said. "We expected him to be good. He's a great kid with a great work ethic, and he's only going to get better."
Peca already is a key factor in the team's success for this season, and looks forward to having a solid career at QU.
"You have to set the bar high. The NHL is a goal for me," Peca said. "Four years here would be great. I am in no particular rush."
Division I hockey is different from other sports. Many players play junior hockey before entering college. Players are usually 19 or 20 coming in as freshman, and even sometimes 21.
Although he is known for his contributions on the offensive end, Pecknold feels his defense is what it the key component of his game.
"He's done all the things well," Pecknold said. "He's certainly scoring for us, but even more importantly he has been a really good defensive player for us."
Although Peca has a professional career to look forward to, he is not looking too far ahead. He is taking each game as it comes and not looking ahead to other opponents.
"Its been great playing here. I love it," Peca said. "We got a good group of guys. The team has been in a bit of a stretcher where we've been having a tough time scoring goals and winning games but I think we have a special team and we are confident we are going to do well this year."