Here we go again
[media-credit name="James Anderson/Flickr Creative Commons" align="alignright" width="300″]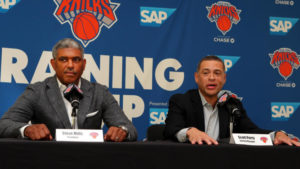 [/media-credit]Throughout my 20-plus years on Earth I've learned that three things are guaranteed: Death, taxes and the New York Knicks being the most dysfunctional franchise in the NBA.
The Knicks latest move was trading All-Star forward and franchise star Kristaps Porzingis to the Dallas Mavericks in a seven-player deal on Thursday, Jan. 31.
The deal, which sent Knicks guards Courtney Lee, Tim Hardaway Jr. and Trey Burke along with Porzingis to the Mavericks for guards Dennis Smith Jr., Wesley Matthews and center DeAndre Jordan along with 2021 and 2023 first round picks, sent a shockwave through the NBA as the Knicks rebuild blew up in their face.
But it shouldn't come as a surprise.
This has been the status quo of an organization that has made poor decision after poor decision with its personnel and front office.
Ever since the 1985 NBA Draft Lottery saw the ping-pong balls fall in favor of the Knicks, who drafted the franchise's greatest player in Patrick Ewing, there has been very little to cheer about at Madison Square Garden.
While the Knicks made the NBA Finals with Ewing leading the way, they have not won an NBA title since 1973, and the 46-year drought seems like that it will continue on.
Porzingis, a 23-year-old 7'3 forward, who was nicknamed "The Unicorn" for his one-of-a-kind skill set for a player of his size, was the lone bright spot at the end of a long tunnel that the 2018-19 Knicks season had become.
Now, the man who was supposed to be the savior, spurned the team that drafted him fourth overall in 2015, stating concerns with the franchise's direction according to ESPN's NBA insider Adrian Wojnarowski.
Porzingis, who met with team brass including General Manager Scott Perry and President of Basketball Operations Steve Mills on Thursday, requested a trade from the team and was dealt to Dallas a mere two hours later.
"We feel like we did the right thing," Mills said on a conference call Thursday night according to ESPN. "When you try to think about how you want to build your team for the long term, you don't want to commit a max [contract] to a player who clearly says to you he doesn't want to be here. That would be a disservice for our organization and disservice to our fans."
Porzingis apparently told Mills and Perry that he "no longer wanted to be a part of our group" during Thursday's meeting, which according to ESPN lasted about five minutes.
The Knicks, who sit at 10-42 on the year, the worst record in the NBA, will now move forward with a projected $74.6 million in cap space next offseason, good for two max contracts, according to ESPN Insider Bobby Marks.
The trade with Dallas allowed the Knicks to move on from the remaining three-seasons on Hardaway Jr.'s four-year, $72 million dollar deal that he signed after the 2016-17 season. It also allowed them to get out of Lee's final year under contract next season and take back the expiring deals of Jordan and Matthews, giving them a ton of financial flexibility this upcoming summer.
But, it's the Knicks we're talking about. Can we really trust them to make the right moves with this money?
Can they finally dig themselves out of the hole that has been mediocre to downright awful basketball over the past decade?
I am extremely skeptical.
While Porzingis's decision to request a trade is extremely frustrating considering he had not played a full season yet in his career due to injury problems, it is also something the Knicks had to see coming.
Porzingis has not played this season due to a torn ACL, and he watched a team that was over .500 with him in the lineup last year, flip to the worst in the league, a clear question of what kind of supporting cast the organization would give him when he returned.
However, this wasn't a last second decision by New York. Rebecca Harlow, the Knicks reporter for MSG Network tweeted this after a conference call with Knicks brass following the trade:
"Important to note: this was not a snap decision; Knicks explored these scenarios throughout season & brought Porzingis in 2day to discuss it. Once KP confirmed what they already felt–that Knicks & KP were moving in separate direction–they made a move they felt best 4 future."
Late Thursday night, Porzingis posted on his Instagram story, "The truth will come out :)," which was later deleted.
Whether Porzingis formally requested a trade or not, The Athletic's NBA Insider Shams Charania reported that Porzingis intends to accept the qualifying offer this offseason in free agency to become an unrestricted free agent after the 2019-20 season.
To explain, Porzingis is on a rookie contract, meaning that when he reached free agency this summer he would have two options: sign a qualifying offer with the team he is currently on or sign an offer sheet with any team with the restriction that the offer could be matched by his current team, meaning he would stay with them for the duration of the new contract.
In other words, for Porzingis to have the ability to choose where he plays by 2020, he would need to bet on himself, take less money on a one-year qualifying offer and then hit the free agent market in the summer of 2020.
For a player coming off a major injury, it is a huge risk, but one he clearly feels he should take.
This is what handicaps the Knicks when Porzingis requested the trade. They could either trade him before the Feb. 7 trade deadline like they did, or be forced to trade him next year if he threatened to leave after accepting the qualifying offer.
An absolute no-win situation.
So do I have a problem with the Knicks trading their franchise player? No.
But it should have never reached this point. The reason the Knicks were forced to trade Porzingis is their own doing, because of poor decisions that can be traced all the way back trading for center Eddy Curry in 2005.
The Knicks traded for Curry, giving up a litany of players but more importantly multiple first-round picks, setting the franchise back about five years.
Instead of learning from their mistakes, the Knicks decided to sign an injury-prone Amare Stoudemire to a five-year $99.7 million max contract in 2010, which would set off a number of moves that put them where they are today.
Stoudemire had a very good first season, but was unable to stay healthy after that. Because of Stoudemire's play, the Knicks sacrificed their future when they traded young forwards Danillo Gallinari and Wilson Chandler, center Timofey Mozgov, guard Raymond Felton and a 2014 first round pick to the Denver Nuggets for Carmelo Anthony, Chauncey Billups, Anthony Carter and Renaldo Balkman.
New York would have moderate success with Anthony, culminating with a 54-28 record in the 2012-13 where Anthony won the scoring title. However, New York would lose in the second round of the playoffs and would never get over the hump as the Miami Heat and their Big 3 of LeBron James, Dwayne Wade and Chris Bosh went to four consecutive NBA Finals.
The Knicks were unable to continue to try and rebuild, instead going all in when they clearly were still going to be inferior to Miami even with the addition of Anthony.
The dysfunction continued as new President of Basketball Operations Phil Jackson signed Anthony to a five-year $124 million contract that included a no-trade clause, according to ESPN, following the 2013-14 season.
In an attempt to win with Anthony, the Knicks spent the 2016 offseason trading for guard Derrick Rose, signing center Joakim Noah to a four-year $72 million dollar deal, and signing Lee to his four-year $50 million dollar contract.
That experiment failed miserably as the Knicks went 31-51 and Jackson destroyed Anthony's trade value by belittling him to the press all season, leading to the team relieving him of his duties as President of Basketball Operations.
The following offseason, the newly-hired Perry would trade Anthony to Oklahoma City for Enes Kanter, Doug McDermott and a second round pick, and overpaid Hardaway as a free agent.
Just to top it off, before firing Jackson the Knicks allowed him to draft guard Frank Ntilikina over the likes of Smith Jr. and 2017-18 Rookie of the Year runner-up Donovan Mitchell.
Funny how things come full circle, isn't it?
Throughout all this dysfunction, the Knicks had Porzingis, developing into one of the league's brightest stars, ready to move the team out of mediocrity.
After they used the NBA's stretch provision to release Noah and pay his contract over the next four years instead of the next two, they had the ability to sign a max free agent this offseason had they just moved one of Lee or Hardaway Jr.
Now, the lone selling point the Knicks had for free agents, Porzingis, is gone and the Knicks had $74.6 million to spend on what pessimistic fans such as myself know will be the wrong guys.
Sure, Kevin Durant, Kyrie Irving, Kawhi Leonard, Kemba Walker, Klay Thompson and Jimmy Butler will be free agents this offseason, but why would they want to go play for the Knicks?
This organization has failed its stars, from Anthony to Porzingis, time and time again in attempts to get them a supporting cast.
Because of this, they traded their best player for cap space and the guy that they should have drafted in 2017.
For all I know, the Knicks could have some master plan to bring in two stars on max contracts. But I'll believe it when I see it because history tells us that they also could overpay players just like they did with Hardaway Jr. and be right back at square one.
And let's be honest Knicks fans, why would we believe that it will be any different with the Knicks this time around?