'Tis the housing selection season
[media-credit id=2148 align="alignright" width="300″]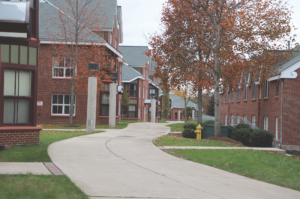 [/media-credit]It is that time of year again. Freshmen, sophomores and juniors are planning their housing and living accommodations for the next school year. They are trying to pull groups of five, six, seven or eight together in the hopes of receiving a low  lottery number to get their first choice for housing.
Students are both excited and nervous for what the outcome of housing will be.
"I'm not excited for (housing selection) because it is such a stressful process," sophomore international business major Ryann Glushek said.
Rising sophomores, juniors and seniors that choose to remain on campus are able to select their housing based on a lottery system. Each person receives a randomly-generated lottery number after paying a $500 housing deposit. The lower the lottery number, the earlier students are able to make selections.
This past Sunday, Feb. 11, Residential Life hosted an open house for sophomores and juniors to tour the Mount Carmel and York Hill campuses to look at possible housing options. Student that attended were entered into a raffle to receive the number one lottery pick.
Senior housing selection took place during the fall semester. Deposits had to be submitted by Nov. 5, 2017 at 11:59 p.m. Selection numbers were posted the following day. The options available to them were Eastview on York Hill, off-campus houses owned by the university and The Flats. The Flats are apartments in North Haven that are leased by the university.
Mark DeVilbiss, director of Residential Life, commented that housing in the fourth year is not guaranteed. However, many seniors choose to live off-campus. As a result, all that chose to remain on campus or on off-campus university owned properties are accommodated.
The process takes place during the spring semester for sophomores and junior housing. Housing deposits are due March 9 at 11:59 p.m. Selection numbers will be posted on MyHousing on March 19. Any medical accommodations are due on March 1.
Sophomore housing has the options of The Village, The Hill, Perlroth, Crescent and Complex which includes Sahlin, Bakke and Founders. Crescent is the only sophomore residence option that is not on the Mount Carmel campus.
Rooms in the Village and The Hill house seven individuals. Complex and Crescent house six individuals and Perlroth houses eight. Students have to base their group sizes off of where they want to live. For example, to choose a seven-person room, all seven people must be in the group at the time of the selection.
Juniors have the option of living in Crescent, Westview or the Townhouses. All of these residence halls are located on York Hill. There are either five or six-person options for juniors. Juniors also have the option of living in Whitney Village. Whitney Village is located on Whitney Avenue and consists of apartment style houses.
Whitney Village and the university-owned off-campus houses for seniors are now gender inclusive.
"Students living in university-owned, off-campus houses and at Whitney Village will be able to live in mixed-gender groups," DeVilbiss said. "Residential Life is committed to developing a living learning environment that contributes to student success. An essential component of this commitment is the inclusion of all students. We are therefore proud to offer gender-inclusive housing for all students who wish to live together in these two areas."
This change was proposed by Student Government Association (SGA) last year and was recently enacted.
"The reason for Gender Inclusive Housing is so that transgender or gender nonconforming students don't have to out themselves in order to live in a comfortable setting," Senior Class Representative Ian Zeitlin, who completed the initiative, said. "This is an issue of equality; this is an issue of civil rights, and Quinnipiac is behind the curve."
SGA has made plans to try to expand this to all sophomore through senior housing.
Students in support of this initiative hope that this small step will lead to greater changes in the Quinnipiac community.
"I like this plan a lot because I get along with guys really well so I feel like having that living option to live with a different variety of people causes less conflict in the room, opens up doors and does not make people feel left out," Glushek said. "Also, people of different gender identities will be more comfortable living in a space where everyone is inclusive no matter what."
The Office of Residential Life has been envisioning this change for a while and is excited about this new housing option to make all students feel welcome while calling Quinnipiac their home.
With numerous housing options and new changes, students have many choices to make that will make them feel included and at home while living on Quinnipiac's campus.