Review | Donut Crazy
For many people, there is no such thing as a bad donut. For others, there is a limit. Donut Crazy is an essential spot for any New Haven foodie, but how crazy is too crazy? Here's what we think.
Tested by:
Charlotte Gardner – Associate Arts & Life Editor
Janna Marnell – Design Editor
Madison Fraitag – Arts & Life Editor
[media-credit id=2117 align="alignright" width="300″]
[/media-credit]Glazed:
Charlotte Gardner: Glazed donuts are the staple donut flavor of any donut chain, so to stand out donut shops have to make them perfect, and Donut Crazy definitely did. The glaze was just sugary enough and the donut was fresh during each bite.
Janna Marnell: 'Donut' worry, I will not hate on the classics, any glazed donut will always make me smile and dance with every bite.
Madison Fraitag: There's a reason they call them the classics, you can never go wrong with a glazed donut. The flaky, buttery glaze will be hard to forget despite its relatively plain appearance.
Milk & Cookies:
CG: Although unsure of how a donut could taste like milk, it looked incredible. It was decked out in cookie crumbles and had such a cool and realistic taste. The crumbles added some crunch to the donut which was topped with vanilla icing.
JM: The cookie monster himself might even deny this cookie inspired donut. Although it was not the worst donut I had, just something about the butter and sugar mixture for the 'milk' threw me off. The glazed donut underneath the weird cookie crumble was my favorite.
MF: I won't lie, the crazier the donut, the more afraid I was to try it. Although the topping of some sort of sugar and butter mixture threw me off, this just-sweet-enough treat was a close second. The chewy cookies and soft, flaky donut made for the perfect textural pair.
Movie Night:
CG: If you go to Donut Crazy, you must try one of their more out-of-the-box delicacies. This donut was topped with caramel popcorn, candies and icing. However, these toppings were quite soggy and left a bad aftertaste. It was hard to even taste the donut underneath because there was so much happening on top. I would honestly scrape off everything and just eat it plain.
JM: First off, as much as this place thrives for their crazy donuts, this looked like the floor of a movie theater after a children's movie. And that is exactly how it tasted, stale popcorn with a melted chocolate drizzle on top. The donut itself underneath this mess could not save this 'crazy' idea of a donut.
MF: This was the biggest let down of them all. The unavoidable popcorn mountain was not only too sweet but also soggy as all hell. Maybe sans popcorn the movie snacks could have worked but this just fell completely flat. Do not judge this book by its cover, avoid at all costs.
[media-credit id=2117 align="alignright" width="300″]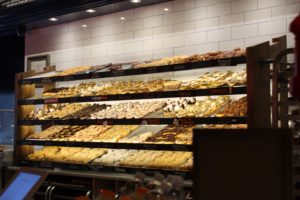 [/media-credit]Red Velvet:
CG: This donut I found to be delicious. This glazed red velvet donut tasted like brownie batter to me, although this flavor wasn't too overpowering. I enjoy red velvet anything so I was elated to see this donut and I was even happier with the taste.
JM: When I think of red velvet I think of a lazy baker who simply dyes their chocolate cupcake and slap a higher price tag on it for the desperate brides that stroll in. That is how I felt about this donut. A desperate chocolate donut trying to be something it is clearly not.
MF: Okay, so red velvet is typically just chocolate with food coloring but this was an entirely different breed. This dense yet soft donut honestly confused me. It wasn't quite chocolate but definitely wasn't anything else. Not bad, but not a standout.
Daily Special:
CG: When you think of chocolate and strawberries, you know something savory is coming your way. I love this classic combination, but in a donut form- not so much. The icing and donut itself were delicious, but the strawberry filling inside was not too tasty. It tasted a bit artificial and was too tart to pair with the rest of the sweetness.
JM: It tasted like that one strawberry chocolate in the heart shaped box for Valentine's Day. It was not for me due to the sweetness, but others might enjoy it.
MF: My first bite of this donut had very little of the syrupy filling involved and I thought it was mediocre. Then I took my second bite and it completely changed my mind for the worse. The thought of eating all of this sugar gave me a mini-migraine. Overall, a just-okay donut with a nasty surprise inside.
French Toast:
CG: I am crazy about french toast, so I was a bit skeptical that this donut couldn't possibly live up to the real thing- but I was totally wrong. This donut was amazing and tasted just like one of my favorite breakfasts. The icing piped onto the donut was full of cinnamon and it added the best touch to the donut.
JM: I am not a breakfast person, but I would eat this donut everyday for breakfast. I am very picky when it comes to my donuts, and this one I would offer to anyone who is a pickier foodie than myself. I might just have to go back for more.
MF: Oh. My. God. Food this bad for you shouldn't be allowed to taste this good. After trying all six donuts I still had room for more of this one. With the freshest donut I have tasted in all my years and the perfect amount of sweet icing and liquid gold cinnamon, this donut takes the cake.