Field Hockey drops first game
The Quinnipiac field hockey team fell to nationally-ranked Boston College 2-0 on Friday at Quinnipiac University Turf Complex.
This loss marks the Bobcats first defeat after winning their first two games of the season to Holy Cross and Towson.
[media-credit id=1459 align="alignright" width="300″]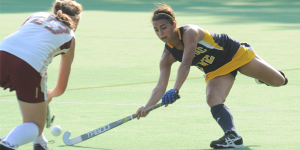 [/media-credit]
Although losing, the future looks bright for the Bobcats as they outshot Boston College 15-13 and shutout the No. 17 team in the country throughout the second half.
"We're not used to playing a high caliber team at this level and coming out on top in the shots and coming out on top in the corners," Quinnipiac head coach Becca Main said. "It obviously shows you we need to make better opportunities out of those, but for us, that is a giant step forward when you play your nationally ranked opponent."
Quinnipiac (2-1) also recorded nine penalty corners, eight of those coming in the second half.
"This, I think, is the first team I've had in 18 years that had the mentality that we're in this game with you from the start," Main said.
Main also stated how the five freshmen in the lineup have stepped up in the first three games and blend well with the upperclassmen.
The Golden Eagles recorded their first goal just 29 seconds into the game by Nicole Shuster and the second with 49 seconds remaining in the half by Sarah Hospodar.
Senior goalie Nicole Lewis recorded seven saves for the game.
The Bobcats enter a stretch of eight additional non-conference games before heading into Northeast Conference play in October.
Quinnipiac will head to New Haven on Sunday to face off against rival Yale University at 1 pm at Reese Field in New Haven, Conn.