High heels and big dreams
Sitting on a couch by the fireplace in the Rocky Top Student Center are seniors Brittany Carinci and Georgette "Georgie" Fryburg. As Carinci looks over Fryburg's computer, the two share a laugh. It is easy to see how these two women are working together to create a hit fashion blog.
After finishing their classes and internship responsibilities for the day, both girls still look put together. Carinci wore black straight pants with studded flats, and Fryburg wore leggings with Toms, a cargo jacket and a sweater.
Carinci and Fryburg created a fashion blog, High Heels & Big Dreams, about three weeks ago — and its popularity continues to grow.
Both women currently have internships that involve working in the entertainment world. Fryburg currently works at Teen Vogue and Carinci works at Vh1.
Fryburg and Carinci decided to create their own fashion blog after spending a great deal of time "blog stalking" together.
[media-credit id=1508 align="alignright" width="201″]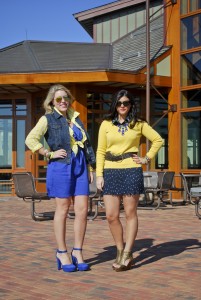 [/media-credit]"Our goal is to inspire other girls to have the courage to wear whatever they want," Carinci said. "Girls are always saying, 'Only you would be able to pull that chunky necklace off.' We want everyone to have the confidence to believe they can pull anything off."
Carinci, a New York native, and Fryburg, a Rhode Island resident, first began working together on the executive board of their sorority, Kappa Alpha Theta.
"We just kind of clicked. We balance each other out," Fryburg said. "Brittany is the realist and I'm definitely the optimist."
The girls' personalities are clearly displayed on their blog. With pictures displaying their personal styles and catchy slogans like "Put a little prep in your step," the girls focus on giving fashion tips and advice for upcoming seasons.
"I would describe our style as preppy. We are always mixing different styles together. We dress expensive but reasonable. Our target audience for our blog is college students, so we try to promote stores like Forever 21 and H&M," Fryburg and Carinci said.
The blog also showcases various trends and styles to inspire women to form their own fashion ideas. According to High Heels & Big Dreams, styles like the "man-repeller" are designed for females to dress in an "offensive way that will result in repelling members of the opposite sex." Also according to the site, one should wear boyfriend jeans, overalls or a full-length jumpsuit.
Senior Kristen D'Innocenzo, a fellow Kappa Alpha Theta member, commented on the girls' style and website.
"I love how they get such simple pieces of clothes and put together such extravagant outfits," D'Innocenzo said. "They look so high fashion but most of the things they are wearing they wear everyday to school. It's a great way for people to see different ways to style various pieces."
The blog received 1,200 page views last Thursday alone, and has received 7,300 total page views.
Both girls were more than happy to offer advice to fellow fashionistas looking to make their way into the fashion industry.
"Apply to everything, it's never to early to start," Carinci said.
"Networking is important, it's all about connections," Fryburg said.
To follow Carinci's and Fryburg's fashion-forward blog, visit www.highheelsandbigdream.blogspot.net and click "join this site."